Lonely Dawn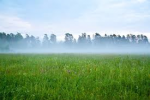 Sun, 19 Jun 2016
Lonely Dawn
The brief mist of an early light weakens, fades
Before the pale strands of sun show the way
 In a  crazy world non-stop rushing,
The hush of a lonely dawn slips in unnoticed
And births another day.
Lonely dawn how I wish you'd stay
Caressing my sleepless soul
Bathing my mind with your serene glory.
Stillness borne by power unimagined
Few gaze upon your majesty.
Witnessing your pageantry by default,
Rising from the cold ashes of a sleepless night
Ringside seated, gazing on
As a feeble darkness crumbles before the mighty light.
Shall I wake them?   Would they see or even understand?
Just why this lonely dawn
Is such a needed friend.