Nearest Neighbour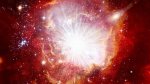 Mon, 28 Dec 2015
Nearest Neighbour
Calling Cosmos…can you see?
Do you also gaze just like me?
On your tiny scrap of soil
Wondering if other Aliens also toil
In some galaxy far away
Calling Cosmos… can you hear?
Do you wonder just like me, do you also fear?
That you might just be alone
Not so much as a robot clone
To brighten up your day
Calling Cosmos…please respond
I cannot be alone in this vast celestial pond
Why don't we chat?
Or are you afraid of that?
And silent you must stay.