Someone Died Today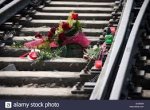 Sat, 30 Jun 2018
1 likes
Someone Died Today
I love trains, I love travelling and I have never been good at sitting still.  So when the recent Spring Half Term came along I decided to go on a rail marathon.  I live in the Northeast and the plan was to travel from Darlington to Wick in Scotland, in one day. After a brief B&B I would return to London; again in a day and journey on to Penzance before coming back to my starting point.
Someone said to me 'that sounds like savage amusement to me!' but they do not know me and my restless soul.  It needs rolling countryside and the feeling of movement in general. I come from the footplate and always HATED sitting for hours on motionless engineering trains as I waited impatiently for the dawn to break.  At least then I could survey my surroundings. The biggest mistake of my life was to stop driving trains and manage those who still did.  It drove me crazy. So I left and with my travel concessions intact. 
This wonderful planet God made is flying through the cosmos.  Even as I sit motionless (it's hard to type on the move…) writing this piece, I am being hurtled through space at thousands of miles per hour; we all are and that pleases my mind. Ever moving, ever restless for pastures new.
So for me, thousands of miles supervised only by two seemingly endless strips of steel was my Utopia and on that Monday morning I dragged a reluctant spouse from her slumbers and set off for the station… We got as far as Newcastle, just forty miles of track before the dream died, but sadly so did someone else.
I will not lie to the reader.  I was angry, bitter…all those negative, selfish emotions that crowd my egocentric mind.  Someone had died in front of a train, somewhere near Edinburgh. The tight connections I had planned were unravelled at the first hurdle, first base… call it what you will.  How dare they spoil my day!  How dare they be so selfish!
That is where the old me would have left it, and my pontifications on suicide remain selfish and forthright.  Thankfully I don't leave it there now.  I began to think about that poor soul and it hurt.  It hurt for two reasons, guilt and pity.  I felt like the murderer in a crime of passion, staring at the victim and the bloodied knife.  The mist of rage gone only to be replaced by a thought 'what have I done?'  The fury drained only to leave a numbing emptiness.  Then the crushing regret and a fearful loneliness that sits in a tortured soul.
My mind turned to the train victim. Not all suicides happen in the early hours on the railways, but a lot do and I set about wondering…how painful, how desolate and lonely that person must have been that Monday morning.  When a troubled person closes their eyes the world does not stop screaming, nor does the darkness bring the balm of sleep.  No! it creates a living hell from which there seems only one escape…
Now I understand those rail-side flowers.  That poor soul had already departed when my anger arose, but I cannot escape the urge to say sorry, to offer a prayer and ask for forgiveness.
My next rail journey will be a short one to the place they passed on; a pilgrimage made in total humility.  How dare I have cursed the Dead.