A Spiritual Scrooge Takes Stock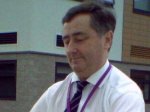 Sat, 09 Nov 2019
A Spiritual Scrooge Takes Stock
In the loneliness of the night
The dark shadows of a past
Without hope or ending
Mock him
Calling my worthless soul to submit
To the path of evil destruction
And hide from a world that defies happiness. 
 In the crowded emptiness of a tortured mind
Tainted with broken promises
And burdened with crushing guilt
The blood of the unsaved victim
The heavy burden of the undone.]
Blind in panic he ran
Deafening roars of accusing barbs
The stench of failure in nostrils flared
Bitter tasting self-loathing
Touching only void
The walls of infinite nothing
Come closing in
Then the clarion call of recovery
Tore him from his stupor.
Now he walks in the light
And seek to pass on the torch of hope
His senses alert for the whimpered sobs of despair;
Armed only with the humble sword of repentance
Humble and reformed he walks toward the light.