Wardrobe Mistress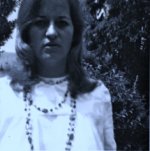 Tue, 25 Mar 2014
I stood in front of the wardrobe
we shared and stared and stared.
I had just seen her with overalls down
below her knees, your familiar bare bum
tensed. It's thrusting only previously
seen in awkward twisted mirror-glimpses.
Your shirts and tees hung between pink
bright lime, purple, olives, shady greens
of twirling gypsy skirts. My bohemian
scarves draped over one of your two suits;
70's-wedding brown and grey work-familiar.
There's nothing I recognize now. No, no
clothing will suit or fit my new body, the
slimmed down me. So I'll leave the large
wardrobe jammed with memories of lilac picnics,
winter barbecues, summer crocheted maternity
smocks… the shirt I hand-made for our first
anniversary and leave the idea of kisses…
Frances Macaulay Forde © 2000 
1st published on my Blog:  http://francesmacaulayforde.wordpress.com/2014/02/15/when-love-left/