Legless Annie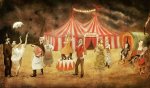 Mon, 28 Apr 2014
2 likes
Sally Ickle gave a train track grin."Keep still and close your eyes, Reece. I've got a surprise." 
Reece stared at her braces, at the sharp spikes of metal. Her teeth snapped together like she wanted to rip his lips off. They stood in a twisting tangle of brambles and long grass that had been allowed to fester like an angry animal you couldn't keep still to groom. To a couple of twelve year old kids it was the perfect place to build camp and Reece reckoned a good place to spy on the circus in the lower field.
"Whatcha gonna do?" Reece asked, trapped by possessed weeds and bramble claws. There was adventure to be had that afternoon and Reece didn't want Ickle Sally tagging along. When Sally had turned up at his door and asked his mum if he could play, he had been pushed out and told it wasn't healthy for a young boy to be stuck in his room reading horror books. Books were his friends, but she didn't understand. No one did. That's why the kids called him Weirdy Reecey and why Ickle Sally was his only friend.
Sally sighed, shaking her ginger curls around her shoulders. "I'm going to kiss you," she said, bending down to meet Reece's lips. When her lips pressed against Reece's, the cold metal of her brace chinked up against his teeth and he pulled back. "You kept your eyes open!"
"So did you!"
Sally folded her arms, her freckled face reddening. "Nah uh!"
"Then how'd you know mine were open?" The logic pushed Sally to silence and Reece sensed a victory, but a storm lingered in Sally's eyes as she glowered at him. He turned away and looked down into the field. Stared right at the circus.
"What now?" Sally asked, her lips covering the braces of death. She followed Reece's gaze. "The circus?"
They had come in the dead of night as Reece hid from the creature he was convinced lived under his bed. The scratching noise in his room when he slept were claws trying to dig up through the mattress and rip out Reece's kidneys. "It's just rats in the attic," his mother told him. But how did rats get in the attic? That night the monster hadn't managed to claw up to his kidneys and when Reece had thankfully opened his curtains to feel the warmth of the sun, he had seen the colourful wagons and tents of the circus beyond the brambles in the lower field.
A leaflet on the mat in the morning announced the arrival of Yanterly's Circus. The oldest circus in the world. Reece had heard of Yanterly's circus, had read about it in "Spine Chilling Mysteries". Some reckon they were the first ever circus. They still travelled the world, but it held secrets that Reece wanted to see. 
"Yeah, I did want to see the circus," Reece said. "Of course, you'd be too scared to go."
Sally's head tilted. "Why would I be scared?"
Reece smiled. He'd gotten her interested. "They keep all their really interesting things from the early days hidden away. "
Sally snorted. "Like what?"
Reece shrugged. "There's Annie the legless fortune teller. She once tried to run away from the circus with the head clown, so they cut off her legs and put her in a box. They forced her to give fortunes. Whatever she predicted came true. Reckon she's still out back somewhere." Of course, she'd be really old by now, probably just a mummified corpse. Maybe they had her stuffed like a favourite pet. 
Or she's still alive.
"What else?"
"They punished the clown. They burned his face off so he had to cover it in thick white paint and a red nose they nailed on. It looks like he's laughing, but he's screaming so loud you can't hear him. They used to make him perform right up until the late sixties."
"What do you know?"
"I've got a book about it." There had been black and white photos from fifty years ago and one blurred photo had caught his eye. There had been a woman slumped in a glass cabinet as onlookers gawped at her. The caption read: Legless Annie. Apparently, she'd gone mad over the years and had to be hidden away. People still reported seeing glimpses of a strange woman in a cabinet, screeching with madness.
"They just made it up to make their circus sound interesting."
"You're too scared to look?"
Sally shook her head. "Nah uh. If we go, then you have to promise to kiss me with your eyes closed."
"Sure." Reece figured Sally would've forgotten about the kiss by the time they headed home. Leading the way through the brambles, they came out and looked across the lower field towards a maze of wagons and tents. A huge red and white tent sprung up at the centre and men hammered in the pegs. They barked orders and sweated under the noon sun to set the circus up. It was the smaller tent set back from the rest that drew Reece's attention. That was where they kept Legless Annie, he reckoned, away from the main attraction and only for the really curious who had the money to pay. 
Pointing to the tent, Reece said, "We're going in there."
They hurried down from the brambles, keeping low in the grass as they neared. The workers were too concerned with the main tent to notice two twelve year olds sneaking towards a lonely tent. As they drew close, Reece's fear grew from a minor doubt to a stabbing pain of terror.
"Are we going in or not?" Sally asked, her face more bored than scared. She lifted the bottom of the tent up, revealing darkness within. "Or are you scared?"
Reece dropped to his knees and stared in, unable to see a thing. He crawled under on his belly and jumped up on the other side. Peering around, his eyes adjusted to the gloom. There were rows of trunks and boxes. It was a storage tent, alright, the perfect place to hide Legless Annie. Forgetting Sally, Reece snuck through the tent. He stopped by a tall box near the centre of the tent, the storage boxes in a circle around it. 
Legless Annie. 
He went up to it and examined the open glass cabinet where Legless Annie would sit. Touching the cold glass, he looked down at a little seat with two holes the perfect size for two stumps. Condensation covered the glass on the inside, fresh from a sighed breath.  
Something crashed into a box behind him. Spinning round, he called out to Sally as loudly as he dared. No reply. She'd probably bottled out and run back home. His gaze lingered on the darkness, but nothing stirred. When Reece turned back to the box, he jumped. Something crawled up into the glass cabinet. An old woman pulled herself over the ledge, her two stumps settling into their seat. "Legless Annie!" Reece stuttered. He backed away from her as she gave a toothless grin and cackled. Two white eyes fixed themselves on Reece.
"I predict a bloody death," she hissed through her laughter. "Bones will shatter, flesh will tear!" She snapped her crooked, yellowed teeth at him.
Reece stumbled away, unable to take his eyes from the old crone. A white gloved hand fell onto his shoulder and a ballon popped, causing him to emit a strange whimper as a bead of sweat ran down his forehead. When he turned around he looked at a distorted face covered in white paint, the mouth twisted into a grin of pain. The clown's red nose fell from it's grotesque white face. The lips were bright red, paint dribbling down his chin like blood. The clown picked the nose up and punched it nail first back into the nose sockets. There was a sickening squelch.
"Gives us it's nose!" it hissed, reaching out to Reece. Behind Reece, Legless Annie cackled and bounced around in her box. The faceless clown dug his fingers into Reece's shoulder and pain shot through him. Annie urged the clown to break his bones and leave her the flesh. Coming to his senses, Reece elbowed the clown as hard as he could. It was enough to pull away from his clutches and he dived around Legless Annie's cabinet. 
"Come back, you devil!" Annie cried out. She shrieked and screamed, jumping in her little box. Reece ducked under the tent and fell out into burning daylight. A crowd of circus men drew towards the tent. 
"Who woke Annie up?" one shouted. "She won't be happy!" 
Reece hurried back up the hill towards the Brambles. He didn't stop until he got home. 
That night, the police turned up and spoke to him about Sally Ickle. She'd vanished without a trace and she had been with Reece that day. "It's getting late," the officer said. "Do you know where she might have gone?" Sally's parents sat behind the officer, their faces pale with worry, her mum's tears flowing freely. 
Reece hung his head low and shivered. He'd said he didn't know where she'd gone, that they'd been to look at the circus and Sally had run away. He didn't mention Annie or the clown, scared they'd take him back there. Sally was dead, and it was all his fault. That night in bed, he hid under the bed clothes as something scratched under the bed. Summoning his courage, Reece peered under. It was dark, but a figure moved towards him, dragging it's legless body from under the bed. 
"Come to Annie," the thing hissed, staring at Reece with white misted eyes. Teeth snapped at him and her fetid breath blew into his face. 
"Mum!" Reece screamed. He jumped out of bed, avoiding Annie's snatching hand and darted for the stairs. But he stopped at the top. At the foot of the stairs a clown with no nose looked up, a ballon floating in his hand. In the other hand he held a knife, blood dripping onto the carpet.
"She can have it's flesh," the clown hissed, "But leave us it's nose!"