In The 7/11 Store, Bel Air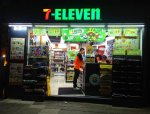 Sun, 18 Oct 2020
1 likes
A little dated now... but I just love the idea of Hollywood A-listers going shopping in the corner store at night...
Toms cruising down by the freezers,
looking for a TV dinner
for one
Angelina's got the kids in tow,
grabbing at potato chips and soda
and 1000 varieties of cereal
and the fudge-coated pinenuts
hoping Brad hurries with the Prius
Clooney's over by the hair products
in Bermudas, Hawaiian shirt and flip-flops
like he's still on-set for 'The Descendents' -
running his finger along the bottles of dye
and wondering if grey is still as sexy as he and
Gere tried to make it
Clint's buying Wild Turkey off
the Puerto-Rican chick at the till.
She slips it in a brown bag as he
whips his Platinum card from
the pocket of his Wranglers and
tries to make it look like Harry's
Magnum. 'Make my day, honey,' he almost croaks.
And he almost croaks.
Pacino's stocking up on Marlboros and Pabst.
Samuel Ls checking out the magazines.
Damon muses Howd you like them apples.
Leonardo raises his eyebrows at the price
of biodynamic guarana tea, and the sight
of whatever the fuck Depp's wearing today.
Somehow, Simon Pegg looks out of place,
pushing the trolley for mate Gwyneth
(with her strange-named kinder)
in his nerdy clothes and beard
his skateboard under his arm
his cap turned backwards
his high-5s to everyone,
including the guy stacking the asparagus
in case hes famous.
Ricky Gervais doesn't shop here.
He sticks to Rodeo.
He sends the help.
Val Kilmer's looking for low-fat everything now,
even toothpaste. And Robert Downey Jr checks
that reflection again in the chiller glass and
wonders how it is still possible he looks so good
after all that's passed via mouth, nostrils,
endocrines, veins, alimentary (my dear Watson),
ass.
Kristen is fumbling through the cards, looking for
a suitable apology, half-knowing she'll never find one
anyway, and never be reconciled, and
always wish she hadn't been such a
slut to Pattz - even if he was
such a putz on set.
J-Law still cant really believe shes here at all,
with Nicholsons hand wrapped around
her wrist, in case she falls -
eye candy, even though his eye
is everywhere else, and theres
only her to look at herself in
the glass as they pass - the
fairground mirror figure,
number 8 -
all torso and arse, no
waist.
Tarantino lurks near the bookstand,
catty-corner to the pharmacy,
camera ready under his raincoat
for the shotgun hold-up he hopes for –
the exploding heads for a handful of bills,
the scrambled lasagne up the walls
the unscripted dialogue to
kill for.
McConaugheys there, too,
being his own hero
and that of his wife
and kids
in his own movie
of his own life
And De Niro just stands outside looking in
methodising his place in this scene
of life imitating art, and thinking
it's all the same
whoever you are
Shit still stinks.
Bills need paying.
People are a pain in the ass.
You need to shave every fuckin' day.
Your socks wear out eventually,
like the feet you put them on.
Your neck turns into a redwood trunk.
Your cock shrivels up.
Your tits head south.
And so
do
you.