Gift: A Son's Story (Postcards from the edge)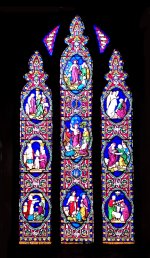 Thu, 01 Nov 2018
1 likes
            The Easter weekend was looming.  Mum had had a rough few days.  But on 13th April, the day before Good Friday, she seemed more her old self again.  While Lottie, her morning personal carer was there, mum said she wouldn't mind another day out.  It was windy and a little overcast, and I was trying to think of somewhere that might be undercover in case it rained.  Lottie suggested a garden centre she knew at Maidstone.
            "It's a big place with a shopping centre, too, and a pub where you can get something to eat."
            Mum jumped at the idea.  So I went down and rented a car, and off we went.
            The garden centre was okay, but mum got chilly quite quickly, so we went into the shopping area for a while.  In a pet store, mum bought some catnip spray and a cat grass seed kit for Daisy.  Then we went to the pub for lunch.  Afterwards, we went back to the car and I asked mum where she would like to go next.  It seemed far too early to return home.
            "I'm easy.  You know the places better than I do."
            "How about we head back on the country route instead of the motorway.  We can pop into Leeds Castle then."
            "I haven't been there for years," said mum.  "Alright."
            It wasn't far to go.  I hadn't been there for years, either.  My first visit had, in fact, been mum's, too - in 1985.  I saw an open-air classical concert advertised in the paper and decided to go.  I thought mum and dad would both come, too, but dad didn't feel like going out that evening.  It had been a warm day in midsummer - perfect for such an event.  We arrived and found a spot on the top of a hill, which formed a natural auditorium above the stage.  The castle was the backdrop - floodlit for the occasion, like something from a fantasy film.  People had come prepared with folding tables, huge picnics, even candelabra.  It was like the Last Night of the Proms in the open air.  After a couple of hours of popular classics, the evening was rounded off with Tchaikovsky's 1812 Overture, complete with fireworks and the guns of the Royal Artillery.  It was an amazing spectacle.  The following year, we persuaded dad to come as well.  We went for a few years, until it became too popular and expensive.
            "Do you remember that first concert?" I asked, as we drove in the main entrance.
            "I could never forget it.  It was one of the best things I'd ever been to."
            "Me, too."
            The immediate grounds formed a spacious parking area, which I drove around a few times in the hope of getting a view of the castle.  But it was hidden behind a vast grove of trees. 
            "Looks like we're going to have to pay to see it."
            "How much is it?" mum asked.
            I took out my phone and checked.
            "£21.90 for you, and I go in free as a carer."
            Mum gasped.
            "Forget it.  I'm not paying that just to see a castle.  I don't really want to get out, anyway."
            "Okay."
            It was a disappointment.  I thought it would be nice for her to see it again.  One last time.
            "Some other time," she said, as if she'd read my thoughts again.  "Let's go for a drive."
            I stayed on the country route going back - up through Charing and Challock.  The road took us down through woods, where the ground was carpetted with bluebells.  There was nowhere to pull off the road, but I slowed down for mum to get a look.
            "Beautiful.  I've always loved bluebells.  When Phyllis and I were evacuated, we picked bluebells and sold them in bunches for the Mrs Churchill Fund."
            "I remember you saying.  It's illegal to do that now."
            "I know.  It's just as well, because they look much better growing.  All flowers do, really."
            As we continued along, a thought occurred to me.
            "This road goes down past Chilham.  How about we stop off there for a while?"
            "Yes.  That would be nice."
            Chilham is a quaint little village down in the Stour Valley, a few miles outside of Canterbury.  I turned off the main drag and drove up the short, steep hill to the village square.  Apart from the other cars parked there, it was like driving back a few centuries in time.  On two sides, the square was lined with half-timbered Tudor houses.  At one end, high gates led into the grounds of Chilham Castle - a massive Jacobean manor house with square towers and tall red-brick chimney stacks.  At the other end was a more familiar scene for us: the white-painted facade of The White Horse Inn, beside which a path led into the churchyard.  The battlemented tower of the medieval church was visible above the head of an ancient ash tree, with the clock showing twenty-five past two.  I wondered if it triggered any memories for mum.
            "Do you remember, when we first moved to Herne Bay, the picture clock we had hanging above the fireplace in South Road?"
            Her forehead wrinkled for a moment.  Then suddenly, she had it.
            "Yes.  That was the picture!"
            "That's right.  The pub on the left, and the church - and the clock itself was the clock on the church tower."
            She smiled at the memory.  "I wonder whatever became of that clock."
            "No idea.  I know we had it for a few years, though."
            I wheeled her around the square, past the quaint little shops and the tea room.  I thought it all seemed rather twee - something like John Major's idea of the perfect English village, stuck in the 1930's - but it was pleasant enough there.  An escape, certainly, from the crowds and logos of modern life.  The pub was open and the cosy front bar looked inviting.  We stood looking up at the church.
            "Do you want to take a walk around the grounds, mum?"
            "Alright."
            I pushed the chair up along the path, past gravestones and memorials.  It didn't seem like the most positive environment. 
            "St Augustine's reputed to be buried here," I said.  "And Thomas Beckett."
            "It looks like it's got a fair bit of history," said mum.
            When we reached the church door, I noticed some people coming out.  They looked like they'd just been visiting.  I took a quick peek inside.  It was empty in there now.
            "It looks like it's open, mum.  Do you want to go inside for a look around?"
            "Yes, that would be nice."
            A sign said there was a 'disabled' entrance at the side, so I wheeled mum around.  The door was in the north transept and took us in beside the organ pit.  As I closed the door behind me, I was immediately struck not just by the absolute peace, but by the radiance of the light through the stained glass window facing us in the south transept.  We stood in silence for a few moments, just taking in the reverence of the atmosphere.  A ramp had been installed for wheelchairs, and I wheeled mum down and across past the pulpit to the chancel.  Another vast window above the altar depicted the crucifixion of Christ in vibrant colours.  We moved on to the south transept, passing over seventeenth- and eighteenth-century memorial stones which we stopped to read.  Then we went over to the main door and turned to look down the length of the aisle to the altar.  Mum seemed happy to sit there for a while, just looking up at the bright beacon of that altar window - a look of quiet, happy calm on her face.  It was as if she'd found some peace inside her.
            "I've seen enough now," she said at last, smiling.  "Let's go home."
            After we'd arrived home, mum sat for a while in her chair ruffling through some papers.  I thought she was going to have a doze, but she seemed preoccupied.  At one point, I got up to make a cup of tea and noticed that she was writing something on the back of some photographs.
            "Writing postcards?" I asked.
            She looked up at me and gave a kind of impish grin, but said nothing.  When I came back with the tea, she had Tipping Point on and was sound asleep.  The photographs were nowhere to be seen.
(The following piece comes from later in the book.  After mum's passing, my brother and I are engaged with the very difficult task of clearing the bungalow before the tenancy runs out.)
            One day, in going through mum's magazine rack, I found some photographs of Daisy I'd printed off and given to mum when I first got her.  On the backs of them, mum had written messages in her shaky handwriting.  As I read them, it came back to me: that evening, after our Chilham trip - mum's last trip out - when I'd seen mum writing on the backs of some photos.  I'd commented, jokingly, about postcards.  And postcards they were.  Both of them addressed to Russell and myself.  On one of them, she'd drawn a heart shape.  She spoke about how much she loved us, and that she knew she would soon be leaving us.  And how that leaving made her feel deeply sad.  But the message to us was bright and positive - telling us both in capital letters:  SPREAD JOY IN THE WORLD.  I felt something catch in the back of my throat as I read them.  I showed them to Russell.  He took one quick look, then handed them back and got on with what he'd been doing.  It was too much for him at this time.  I wished he could have something, too, to reassure him.  Some sign, like the ones I'd had.  Even if he did, though, I wasn't sure he'd really notice it or take comfort from it.
            Later, at home, I looked at those photos and their messages again.  This time, some tears came.  The thought that, as she wrote those words, she knew her time was drawing close.  That she would soon be leaving all the things she knew and loved after a long lifetime.  I thought, too, about how much I felt that I'd taken her for granted.  How I'd always expected her to be there.  And then suddenly, she's not there any more.  Not just not there... but gone forever.  And it's too late to say sorry for things.  It's too late to say 'I love you' one more time.  Too late to ask if there's anything else she needed.  My only hope was that she had forgiven me - and I was sure she wouldn't have thought there was any need to forgive anything.  And I hoped she knew how much I loved her.  I hoped she knew just how much she meant, and how precious she was.
            I put the photos away safely.  I knew I would never part with them.