Gift: A Son's Story (short extract 3)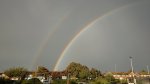 Sun, 28 Oct 2018
          That third Saturday, Russell (my brother) and Lynn were going to go to the hospital after Lynn had shut her shop in the afternoon.  I was going with them, but decided to go over earlier to keep mum company.  Phyllis was having a day indoors.  An ordinary day.  The impact on her of this was more than I was accounting for.  She'd known mum for longer than any of us.  They'd grown up together, two years apart in age.  They'd been evacuated together.  In many respects they were quite different, but they'd always been close.  After dad had left, mum would spend the summers with Phyllis and Bill, her second husband.  After Bill's death, mum and Phyllis had spent a month of each year together.  Phyllis would come to mum's for two weeks, then mum would go back with her for two.  In latter years, when they both had more complicated lives due to medical appointments, the times had been shorter.  But still, they were closer to each other than to anyone else.  Mum had a fridge magnet that Phyllis had bought her one year as a Christmas tree present: God made us sisters.  Our hearts made us friends.  The death of their brother Reg the year before had hit them both very hard.  But if either of them died now, it would be a huge blow to the other.  I think Phyllis found it comforting, staying at the bungalow, surrounded by mum's things – and things, like photographs, that were familiar to them both.
            When I got to the ward, mum was in a high state of agitation.  The consultant had seen her that morning and said he was pleased with all her results.  She'd responded well to the blood transfusion and everything was looking a lot better. 
            "But he wants to keep me here until Tuesday now."  She shook her head, despairingly.  Her voice was quavering.  I could tell that tears weren't far away.  "I didn't sleep at all last night.  The new woman over there kept shouting out for help.  And the one next to me was transferred to another ward this morning."
            I saw the empty bed.  I was amazed that it was empty at all.
            "I tell you… I'll go mad if I stay here any longer.  Or I'll die, just like everyone else seems to be doing."
            "Hang on a minute," I said.
            I went to the nurses' station.  They confirmed that, although mum had shown good improvement and seemed to be stable, the very earliest they might consider letting her go home was Monday – but it would still depend on results on the day.  Tuesday was what the consultant was recommending.
            "But she's so unhappy," I said.  "Is there anything she can be given to help her through it?"
            "We'll need to speak to the doctor.  She seems very low, but we're doing the best we can for her."
            And that was the other thing.  I should be grateful – we all should – that they weren't prepared to push her out too early just to create bed space.  If only it could be on a better ward.  Less gloomy.  Fewer people dying.
            I went out along the corridor to the wheelchair bay, but it was empty.  I had a mooch around some of the other wards looking for one.  Nothing.  I just wanted to get her out again, even if it was only for half an hour.  I went back past the wheelchair bay again – just as someone was putting one back.  I commandeered it and wheeled it to mum's side.  She brightened straight away.
            "Come on," I said.  "I'll take you for a spin and a coffee."
            I took her along to the new part of the hospital, where she'd come in just over three weeks earlier.  I headed for CDU to see if we could see mum's favourite nurse during her time there, Carole.
            She was at the nurses' station.  Her eyes lit up as we approached.
            "Hello, Carole," mum beamed.
            Carole came out and knelt in front of mum, taking her hands.
            "Wow!  It's so lovely to see you, Betty.  I can't believe how well you look."
            "I feel well.  Well enough to go home.  But they won't let me out."
            "Well, I'm sure they've got good reasons."  She glanced up at me and I caught something in the look.  "I think you've done remarkably well, anyway."
            I knew what she meant.  I think she was genuinely surprised to see mum at all.  She got up again as a bed alarm chimed.
            "It's lovely to see you, anyway.  I hope you won't take it the wrong way if I say I hope I don't see you again.  Not too soon, anyway."
            Then she was gone.  And so were we.
            I wheeled mum back to the old building and we stopped at the café again.  I parked her in the conservatory, at the table we'd sat at before.  There were a couple of others in there this time – some family members with an elderly woman in a wheelchair, just like mum.  The woman seemed very vacant.  She picked up her cup of tea and sipped it without any change of expression – like it was a reflex action.  She said nothing. 
            We were overlooking what seemed to be a sunken garden.  There must have been an access door in the basement of the hospital.  A young woman was sitting down there, under a tree, talking on her phone.  It was a changeable day weatherwise – thundery showers interspersed with periods of brilliant blue sky and warm early autumn sun.  It was sunny now, though there had been a shower only a short while before, so the windows were planished with sparkling rain-drops.  One window was open a little way, and the breeze coming through it felt charged and clean. 
            "Do you want to go outside?" I asked. 
            Mum nodded her head slightly.
            "Yes, I do.  But only if I don't have to come back in."
            We sat there a few minutes longer, sipping our drinks.  I tried to distract her.
            "Russell and Lynn will be over later.  Phyllis is having a day at home today.  The place looks nice.  I cleaned the windows before she came down.  I've shampooed the carpets, too.  It's all ready for you."
            I had a photograph on my phone.  I showed her.
            "It looks lovely and clean," she said.  "You didn't have to do that."
            She was silent for a moment, sipping her chocolate, looking out at the day.  It seemed almost like she was a prisoner, looking through the bars of her cell.  So near… but so far.  Something came into my head at that moment.
            "I won't be a minute," I said. "Just got a quick phone call to make."
            I left her by the window and went and sat at a quiet table inside the café.  I dialled Phyllis and put her in the picture.  I told her what was on my mind to see what she thought.
            "I no longer think this is doing her any good.  She's physically better, but she's so low now.  I don't think she'll wait until Tuesday.  If she agrees to it, and I know she will, I think she should leave today."
            I thought she'd object, so I was surprised with her response.  It was unequivocal.
            "I agree," she said,.  "I think you're right.  You need to talk to Russell, though."
            "I will," I said.  "I'll call you back and let you know what he thinks."
            I called Russell's mobile, but Lynn answered.  He'd gone out on a delivery and left it at the shop.   I told her my thoughts.  She agreed as well.
            "Russ and I were only talking about it earlier.  She's not happy.  If she wants it, let's bring her back."
            I went back to mum.  She looked like she might have been crying, but she covered it by blowing her nose. 
            "I've just spoken to Phyllis and Lynn.  How would you like to go home today?"
            Her head jerked up.  She came straight back to life.  I sat down again.
            "Listen… if you're prepared to accept the consequences of discharging yourself early, Lynn and Russell will take you when they come over.  It's not the best idea.  If something happens and you need to come back…"
            "I won't be coming back," she said, pointedly.
            "All the same.  They wouldn't keep you here without good reason.  Not with the pressure on beds.  Is that a chance you want to take?"
            Her face lit up.  She held up her hands.
            "I don't even need to think about it any longer.  Whatever happens, I'm not staying here another night.  I'll take my chances."
            "Alright, then," I said.  "Let's get things moving."
            As I pushed her back to the ward (she was rocking forwards to try to make me go faster), I called Phyllis again.
            "You're got company for tea this evening," I said.
            "That's right!" mum sang out, making heads turn as we passed.  "Get that kettle on, Phyll.  I'm coming!"
            Unsurprisingly, the medical staff on the ward weren't happy.  But they accepted that it was mum's right to choose and respected her decision.  It didn't take long to get mum's things together, and for her to say her goodbyes to those on the ward who were able to respond.  I rang Lynn again, who said she was coming straight over.  Russell was still out on a delivery.  She was going to pick Phyllis up and bring her, though.  They'd probably be about half an hour.  We had to wait for the discharge letter, and it was ready just as they arrived.  Phyllis and Lynn took her bags and bits, and I wheeled mum out.  It had darkened up whilst we'd been waiting (as if the ward could get any gloomier) and I'd heard a couple of cracks of thunder in the distance.
            "We drove through a terrific storm," Lynn said.  "I think it's passing over now."
            "That's a shame," said mum.  "I'd like to have seen that.  I need something to wake me up."
            It was still gloomy outside, but as we got closer to the entrance, shafts of sunlight suddenly washed in through the corridor windows.
            "Looks like the sun's coming out to greet you, Bet," Lynn said. 
            As we neared the entrance doors, I glanced through a window and saw – behind the rooftops of the houses across the road – the dark bruise of a massive storm cloud with the sunlight breaking through above it.  And I caught my breath at what I also saw there. 
           "I don't believe it," I said, as we turned out into the open air.  "Just look at that. Something else has come out to greet you."
            We stopped and mum gasped with joy.  Arching over the rooftops in vivid neon bands of colour was a double rainbow – the brightest one I'd ever seen.  Both arches were perfect, too – stretching from left to right, framing the scene.  Almost seeming to embrace it, in fact.  It almost made me cry to see it.  And to think that mum had lived to see it – and had seen it solely because she'd decided to leave.  If she'd stayed, all she would have seen would have been the gathering shadows on the ward.  And that gorgeous sight would have been lost forever.
            "There's a good omen if ever you wanted one, mum," I said.
            "Yes," she said.  "Yes.  I wouldn't have missed that for the world."
            We watched it for a few moments, comforted as we were by the warm, fresh light of the sun.  A few rain drops began to fall as a new cloud headed over.
            "Come on," said Lynn.  "Let's get moving."
            And we headed for the car.