Gift: A Son's Story (Signs)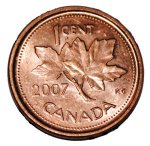 Sat, 03 Nov 2018
            At lunchtime, I went out to buy some 'thank you' cards to send to a few people.  Lottie and Theresa from the care agency.  The people at the funeral directors.  And one for them to pass on to the minister who'd conducted mum's service so well.  When I went to pay for the cards, I tipped out my wallet pouch to see if I had the right change.  I counted the coins into the woman's hand, including a penny that I took back and looked at more closely.   It was the same size and colour as a British penny... but it was Canadian.
            "Now... where on earth did that come from?" I said, almost to myself.
            "Someone probably gave it to you accidentally in your change," she said.
            "Maybe."
            I turned it over.  Two maple leaves, with 1 cent above them and CANADA curving underneath.  Then, to the left, the year of minting.  2007.  The year mum and I went out there together on her trip of a lifetime.  I almost dropped the coin.
            "It's not worth much, anyway," the woman said.
            "Oh, yes it is," I said, putting it back in my wallet.
            When I came out onto the street again, a young busker - who'd been setting up when I went in - was just launching into his first number.  I didn't know the song - it was something country, which wasn't a familiar genre to me.  But as I was walking away, I heard him sing the name 'Caroline'.  That made me stop again.  It was mum's middle name.  Not quite the same, but nevertheless.  I turned back and listened.  When he finished, I went over to him.
            "Do you take requests?"
            He tilted his head.  He was about twenty-five, but his face and beard and the clothes he was wearing made me think he'd been around for a bit, and seen a few things.
            "What did you have in mind?"
            "How about Nine Inch Nails's 'Hurt', as sung by Johnny Cash?"
            He pulled a bit of a face.
            "I've tried it, but I can't really do it justice.  The vocal register's a bit low."
            "Could you try a different key?"
            He put a capo on the fretboard and strummed a few chords, humming along.  Then he shook his head.
            "No."
            He thought for a moment.
            "I know another Johnny Cash song I could play you, though."
            "Okay."
            I didn't ask him what it was.  I knew a fair bit of Johnny's catalogue.  I was sure he'd know something appropriate.
            I wandered off a little way, into the crowd.  Waiting.
            Then he launched into 'Wayfaring Stranger' - a song about a lone wanderer, talking about going to see his father one day, and all of his loved ones who've gone on.  And then that final line in the chorus:
I'm just going over home.
            As he was singing, I saw mum's next door neighbour, Jean, walking along through the crowds with her shopping trolley.  I stopped her and said a few words - telling her that it had all gone off alright on the day before.  She smiled and gave my hand a squeeze.  Then, as she moved off, I saw Theresa, one of mum's favourite carers, in the crowds.  She was walking the opposite way, though, and hadn't seen me.  That conjunction of things, though - the songs, the people, the coin - had me frozen to the spot.  In those few moments, it was like I was the only real person there that day, and the rest of the world was just something moving around me, like a film.  I felt like a charm had been put on me.  Everything around me - the shops, the trees, the people - seemed as if they had an aura of golden light.
            When the busker stopped playing, I went over and shook his hand.
            "You have no idea how much it meant to hear that song today," I said.
            I dropped some coins in his hat.
            "Thank you so much," I said.
            "My pleasure.  Glad you liked it.  I'll keep practicing 'Hurt'."
            That evening, I lit the candles at the usual time and sat quietly.  After what had happened that day, I felt mum's presence much stronger than I had before.  Daisy sat on my lap, as usual, and went to sleep.  But at 7.22 pm precisely, she suddenly woke, sprang up and jumped down to the floor as if something had alarmed her.  She went to the living room door, which was open, and started sniffing around the frame.  She looked at the wall intently, then stretched up on her hind legs and put her front paws on the wall, like she was seeing something or trying to catch something.  But there was nothing.  Not even a flicker of candlelight.  Then she started to wander around the flat - the bedroom, the kitchen, the bathroom - sniffing at things, constantly looking into the air.  I called to her at one point and she came running back into the room, making her funny 'rrrrowww' sound, which I always thought of as a contented meow.  She remained unsettled, though, and carried on sniffing around for several minutes.  At one point, she settled at the top of the stairs and looked down them - her ears back and flat against her head, her whiskers pronounced and alert.  Finally, she got up and dashed back into the living room, as if chasing after a fly.  It was a few more minutes before she finally calmed down.  She jumped up on the back of the sofa then and began to make herself a bed as if nothing had happened.
            Later, I found myself a film to watch and got it ready.  I felt peckish and went to the cupboard to make a sandwich, but there was nothing much to put in it.  I looked out of the window.  It was pouring with rain - the pavements puddled under the silvery lamplight.  Reluctantly, I pulled on my trainers and hooded jacket.  I thought I'd just go to the shop on the corner and get some peanut butter or something - maybe a can of beer, too.  Halfway there, though - the rain planishing my glasses - I changed my mind and diverted to Morrison's.  Further to go - but something came into my head.  A single thought, which I actually spoke aloud to myself.
            "I'm going to see someone in there I need to see."
            On the way, I tried to figure out who it might be.  One of mum's carers, perhaps.  Or one of her neighbours - though that was less likely, given the time and conditions.  Someone known and significant, though. 
            By the time I got there, I was drenched.  It wasn't long before closing time and the store was almost empty.  I shook myself off, then stepped through a barrier and into the bread aisle.  There was one other person along there, coming towards me.  It was the minister who'd taken mum's service at the crematorium - in civvies, doing his late-night shopping.  I'd never seen him either in there or anywhere else before.  I walked straight up to him and held out my hand, and he shook it warmly.
            "You won't believe this," I said.  "I knew I'd see someone significant in here.  I didn't expect it to be you, though."
            He smiled, knowingly.
            "Strange how these things happen, eh?" he said.
            Quite.
            The next day, I was back at the bungalow, carrying on.  It was almost finished now, though.  Joanne was coming the following evening and over the weekend to help with the other stuff - the bits from the shed and garden, plus the planters.  She had a friend who had offered to take the armchairs.  That would only really leave the wall unit.  It was one of mum's most treasured pieces of furniture, which she'd had for many years.  But nobody seemed to want it.  Still time yet.
            I gave the kitchen cupboards and surfaces a thorough clean.  Then I went from room to room removing nails and screws from the walls and giving them a brush down, cleaning off as many dirty marks as I could.  I put filler in the holes.  I also made up some paste and stuck back tiny areas of wallpaper that were peeling.  I cleaned the windows and doors, and washed down the skirting boards.   Then I went outside and moved all of the planters around to the back so that I could give the whole front area a good brush over.  Finally, I took up the doormat and gave it a scrub - flushing a bucket of water over it to bring out the pattern of lettering on it again.  HOME, it said.  I'd bought it just after moving in, as mum's old one was worn out.  None of these jobs really mattered, of course, because the council would go in and strip the place before a new tenant took over.  They would redecorate throughout and rip up all the carpets.  But that wasn't the point - as far as I was concerned, anyway.  Whatever other people thought, this would remain my mother's home until the final day of the rental contract, so I wanted to keep it looking as she would have wanted it to look.
            I cleared away and locked up to return home.  But before I left, I went to call on mum's neighbour Sylvie to make sure the bed she'd had was okay.  She'd been quite supportive while I was with mum, often inviting me over for a cup of tea if I ever needed a break for a chat.  She'd done some full-time caring for someone herself, so she knew how it could be.
            Her flat was on the ground floor of a small block, next to mum's and at a right angle, so that her kitchen window overlooked the short line of bungalows.  As we were talking in the hallway of the block, from the corner of my eye I saw someone go past the entrance door heading towards mum's bungalow.  I turned quickly and caught a glimpse of the hem of a white dress, brown legs and flat white shoes or sandals.  My first thought, for some reason, was that it must be a nurse visiting.  I took my leave of Sylvie and dashed along the hallway and out into the daylight.  It took me no more than a few seconds.
            But there was no one there.
            Puzzled, I went to check that I'd definitely locked the door - I had.  I went around the side to the drying area, then back around the front to check down the passageway to the road.  Nothing.  There was nowhere else they could have gone in that time.
            I stopped.
            I remembered that mum had a white, knee-length cotton dress that she liked to wear in the summer months.  She had some white buckle sandals, too.  And she would always be bare-legged in the summer.  I remembered it clearly, from perhaps ten or fifteen years earlier.  I'd found those sandals in a bag in the shed, along with some other old pairs of shoes.  I'd no idea why she might have kept them, because they were all worn out.  I'd thrown them away perhaps a week before.
            I turned and looked over to where Sylvie was standing at the entrance door.
            "Who was it?" she said.
            "No one," I said.  "But I know I saw someone."
            "Who do you think it might have been?"
            I shook my head.  And she seemed to know.  She smiled at me.
            "That's how they appear to us," she said.  "A glimpse, seen in the corner of the eye."
            "Yes," I said.  "That's who it was."