Hunting for Duck (1)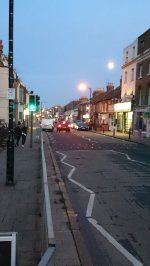 Wed, 27 Mar 2019
            Those lonesome city nights when it's raging out there with the rain and the traffic, the sirens howling, the cross-block shouts of crazy drunks, and when the last time you felt the touch of a woman was so far back you almost forget where it was or who, you lie on the bed in the dark with a bottle and you think about them.  The women.  All of them.  Like the drink - too many and never enough.  The overnighters.  The weekenders.  The sad no-hopers with the hidden histories.  The bad and the not so.
            And then, sometimes, the good.  Some who would stay around a while.  You'd think it was happening – the pieces fixing.  Half of you itchy, but all of you alive.  Then one night, clothes stinking from a 12-shift, even your hair aching, you come back to the note on the table.  The chairs pushed in.  The lights off.  The stuff in the garbage.  The shape still there in the sheets.
            Of course, it was you.  You look at yourself.  Pocketful of loose change.  Broken compass.  Ground too loose to build anything substantial on.  So why would they even bother trying?  Who could blame them?  It doesn't stop you wondering, though.  Where have they gone?
            Where have all of them gone?
            Me?  I've had as much luck with women as I have with writing.  Less, even.  Night after waking night when every word was dead on arrival, hardly worth the effort.  Then whole spans of time when it all seemed to fit just right and go singing along to an end.  But somehow never enough to hold it together – to make a real go of it.  I came close once.  The story that almost worked, but didn't quite – and couldn't be made good no matter what.  The one that never got finished.
            Sal.
            Yeah, Sal was special.  I drink to her, and I wonder.
            But then there was Marlene, too.  The disaster movie.  The machine gone wrong.  Sal was the pure grain spirit.  Marlene, the meths bottle and the sad red-eyed morning.  But they were part of the same thing.  There wasn't one without the other.  So, what can you do?
            Sal was an accident... but aren't they all?  Even if you go out looking, it's still about two people being in the same place, of all the places they could be.  I don't believe in fate, or the Hollywood version of romance.  You meet someone, that's it.  You make of it what you do.  It's your choice.  And if it's not them, it's someone else – for both of you.  So it's midnight and I'm out of smokes, and there's no chance of sleep, and not much to get up for anyway, so I go down to an all-nighter for some cigarettes and beer, and when I'm coming back along the street, there she is – her car beached up on the sidewalk, the light on inside, the flicker as she turns the key over and over, killing the battery.  I tap on her window.  She looks at me a moment, scared alright.  But she sees something she trusts.  The Bill's Tires badge on my work-shirt helps.  She winds it down a ways - just far enough.  Mid-thirties, nice face, brunette, good figure from what I can see.  The split-second things a guy always notices.
            "How's your gas?"
            She looks at the needle.
            "It says a quarter tank." Then she hits her head on the wheel. "Shit! That's the temperature."
            "Bet I can guess what the tank says."
            She looks again.
            "Cold.  I've only had it a couple days.  I'm not used to it."
            "You got a gas can?"
            "No."
            I look along the empty corridor of the street.  It's a flat run and the car's not big.
            "Power steering?"
            "No, too."
            Well, there's a bonus.
            "There's a gas station two blocks along.  I'll give you a push."
            "You sure?"
            "You wanna stay here all night?"
            She swings the wheel and I get the thing moving.
            The rest of it you can make up yourself.  One thing and another – how it happens.  The oldest story in the book.  We exchange numbers, meet up for a beer a couple of times, go to a movie, patch a bit of history together, end up on the springs.  Two people, nothing else doing, finding something they can share and feel good about when they've already tried and failed too many times to think it can ever work – but still keeping the flame going anyway, in case.  You have to keep trying.  You'll never know if you don't.
            And this really did feel different.  Sal wasn't like so many of the others.  She had a career, for one thing – teaching high school English.  She read books and had opinions on them.  It was like a breath of fresh air blowing through my life.  After a few drinks one night, I got up the courage to show her one of my stories.  Instead of just saying she liked it, she sat up late discussing it with me.  She made suggestions, did a little editing.  She helped me to make it better.  She encouraged me to send it out to a journal, and they took it straight away – the first paying acceptance I'd had.  I was knocked out.  For the first time, I felt confidence in myself – like I was on the cusp of something.  And she'd helped to make it happen.
            Which is why, when she asked me to move in, I didn't think twice.  I could give up my crummy rooms and my job at the tire store, be with her, spend my days doing what I'd always wanted to do: write.  She made enough for us to manage.  I'd do the housework, get the groceries, everything else.  And I could sit and write all the rest of the day – honing the talent she convinced me I had, working my way towards doing something with it.  It was everything I'd always dreamed about.  A thing like that, you just hoped and prayed it would stay that way – though you always knew what you always knew.  What life had shown you.  Something happens.  I tried not to think about that too much.  We were a team.  She worked.  I wrote.  We lived.
            "Just think," she said, one night in bed. "If I hadn't run out of gas that night, and you hadn't run out of cigarettes..."
            I put my finger over her lips.
            "Don't even say it."
            She kissed my finger.
            "I love you," she said.
            "Love you, too, babe."  I meant it, too.  So did she.
            She kissed my hand.  She kissed my chest.  She worked her way south from there.
            "I love you."
            So things were as good as they could be for a while. 
            And then there was Marlene.
            Marlene was Sal's younger sister.  She'd spoken about her a few times, much as I'd spoken about my older brother.  They were in the past.  People we hardly knew any more.  Not that I ever knew my brother, anyway.  Eleven years up on me, he was in High School before I'd taken my first steps.  At eighteen, he left home for college and didn't come back.  By the time I was facing my first run in, he was at Syracuse, gazing at black holes or whatever, muscling up to a professorship.  I'd seen him once in eight years, at mum's funeral.  As he might have said himself, we were on different planets.  Light years apart.
            From what Sal said, Marlene was more like I used to be – the black sheep.  Didn't take the usual route.  Some kind of habit along the line.  Couple of possession raps.  A few stints in rehab.  Always losing jobs for being late, being obnoxious, being drunk or high.  But whereas I was through that now, she wasn't.  She was just 27 – eleven years younger than Sal.  Done nothing useful, cut herself off.  Sal hadn't heard anything for ages.
            And then, one day, four months in, the letter arrives.  She's met up with this bus driver in Albany – some older guy called Nate.  It's working out.  She's getting it together at last.  Oh, and they're taking a trip to Atlantic City and can they call by on the way through?  Sal looks at me.
            "I don't know what to say," she says.
            I can hear it in there, though. 
            "She's still my sister.  She's older now, too.  It would be good to bury that stuff and get on.  Maybe she deserves the benefit of the doubt."
            I light a cigarette.
            "Sure. Don't we all?"
(continued)