The Love of the Loveless (Chapter 6) (1)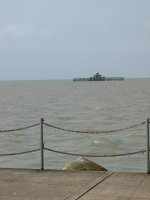 Fri, 01 Mar 2019
      I saw dad on Sunday morning.  He visited me in a dream. 
      It was strange, but quite comforting.  I was walking along a wet street at night.  I had no idea where I was, though it felt familiar for some reason.  The pavement was cobbled, and the wet stones glinted like stars under the light from the street lamps.  To my right was the road.  To my left was a row of dark buildings.  Closed shop-fronts, maybe.  Then, as I walked, I noticed a building with warm light pushing against the lattice windows.  I could hear a confusing chatter of voices - mainly men's.  A pub.  A Saturday night.  I walked over and stepped in, and the warmth and light filled me.
      Dad was standing right there, at the bar, wearing his tweed jacket and cavalry twills, his boots gleaming, his hair white as cotton and quiffed up, a roll-up lodged between his lips like a whistle.  He was leaning on one elbow with a pint there ready in hand.  One foot was crossed over the other with the boot tip pointing into the floor.  As I always remembered him.  He turned and saw me and a smile broke across his face.  He held out his free arm towards me, welcoming me to the space beside him.
      "Alright, boy?" he said.
      Boy.  He always called me that.  Even when I was a grown man.  Even on the last night I saw him in the hospital, when he looked up at me and barely saw me.
      "I'm wishing my life away, boy," he'd said.  "Wishing it away."
      He clicked his fingers to the barman, who began to pour my pint.  Behind him were serried rows of shining bottles on mirrored shelves.  I looked for my reflection, but could just see dad there with the space beside him.  I turned to him and saw him as I now see myself.  As I best want to remember him.  In his fifties, filled out in the face, a glint in his eye.  The laughter lines there.  The flush of alcohol in his cheeks.  Those final years before his decline.
      "Where's mum?" he said.
      "She's at home.  She's alright."
      He raised his pint.
      "Good luck."
      Then we were out in the street.  He was in front of me, moving quickly, his shadow stretching off in the glow of a street lamp.  I struggled to keep up for some reason.  High up in the darkness, a small square of orange light hung like a harvest moon in a frame.  I knew at once that this was our skylight window in the house where I was born - way up near the ceiling above the stairs.  As a child, I would sit by the banisters and stare up at it - at the glow from the pub at the back.  From the outside, our stair light would have been visible like a beacon in the night.
      Then I was inside a house, going up the stairs, walking around the rooms.  I didn't recognise it, but in the dream it was known to me.  There was no furniture, nothing on any of the walls.  Here and there were piles of cardboard boxes filled with things, as if someone was either moving out or moving in.  I realised I was alone now.  I called out for both mum and dad, but there was no reply.  I kept wandering around the rooms, but no one was there.  Finally, I found myself in what must have been an attic room.  More boxes piled up.  I went down some stairs, which led to a landing where more stairs went up at a right angle.  I kept going up and down stairs leading nowhere, calling out all the time...
      And then I woke as Tinker stepped over my head to the edge of the bed and jumped off.  Daylight was coming through the closed blind slats.
      Sunday morning.
      We were set to meet at mum's at twelve-fifteen and the table was booked for one.  I left early, slipping a strip of Moggies into my pocket.  I wasn't going to chance drinking around Karen after the rows we'd had about it, but I wanted something to take the edge off.  On the way up the High Street, I stopped by an offie for a can of Pepsi Max.  I took two tablets and popped the tab.  By the time I got to mum's just before midday, the buzz was setting up nicely.
      I rang the doorbell and she was right there waiting in the hall, checking herself over in the mirror.
      "I knew it was you," she said.
      I gave her a quick hug and a peck on the cheek.
      "Happy birthday, mum.  You're looking nice."
      "I'm not.  I look like something the cat's dragged in."
      Which is what she always said. 
      She was wearing her favourite plum-coloured dress with the lacework sleeves.  She'd used the tongs on her hair and curled it just right.  She had her pearl clip-on earrings on and a silver chain necklace with a sun pendant.  She'd used her make-up sparingly and her skin had a subtle healthy tone.  She looked amazing, really, considering everything that was wrong with her.  Younger than her years.
      "It'll have to do," she said.  "There isn't time now."
      "You look absolutely fine."
      We went through to the lounge, where the TV was on.  Her window faced west, and the sun was like a benediction in the room.  She did a quick check on her blood sugar.
      "Five exactly.  That's good.  I'll be alright until we eat."
      She sat down and put on her shoes.  I stood by the window and looked out across the tennis courts at the back.  People were out there playing in shorts and tees. 
      Thwock... thwock...
      The bird feeders on the back fence were bubbling with sparrows.
      "Nice day for it, anyway," I said.
      "Glorious.  We won't be getting too many more like these, I don't suppose."
      "Never know.  Might get an Indian summer."
      "We say that every year."
      I heard footsteps and voices.  The doorbell rang.
      "Come in," mum called, getting up rather too quickly and having to steady herself.
      Natalie strode in like she was entering a cat walk, stunning in her print dress and black leggings, her black eyeliner, her jet hair brushed over her eyes.  The colour must have come from a bottle.  She was like an emo princess.  She rushed at mum, arms wide, and hugged her like a bear.
      "Happy birthday, grans!"
      She gave mum a big loud kiss on the cheek.  She was only seventeen, but already a head taller than mum.
      "Thank you, darling."
      Then she turned to me.  Arms wide again.  This time she had to look up.
      "Uncle-punk!"
      She nearly pulled me over.
      "Nice to see you, Natalie."
      "And you."
      She looked so grown-up now.  The puppy fat had gone, like someone had let the air out of her.  I could see more of her mother than her father in her.  I could see her grandfather, too.  The shape of her face, the quick smile.  Something else as well.  Something in the character.  Something that seemed to fill the room.  I'd always wondered with the choice of name.  Karen had maintained it was because they both liked it, and they were also fans of Natalie Imbruglia.  They always used her full name, too.  Christopher was Chris and Adam was frequently Ad.  She was Natalie, though.  Not Nat.  Never Nat.
      Karen and Rod followed in at a more sedate pace, doing the honours in turn.
      "Happy birthday, mum."
      "Many happy returns, Eve."
      Karen came over to me.  It was the first time I'd seen her since Easter.  We hugged and kissed a little stiffly and clumsily, like novice dancers - our feet ending up in all the wrong places.  It felt more like  I was trying to hold her back while a lorry passed.  Not so long ago, I'd probably have let her fall.
      "Nice to see you, Karen."
      "And you, Will."
      She looked well.  She had the family's good skin (mum's side) and she'd kept her figure - though I had a feeling she'd paid for some of it.  She'd had her hair restyled in a pixie cut with platinum tints.  From the back, you'd her take for a much younger woman - Natalie's older sister, maybe, instead of my younger one.  The clothes were the only giveaway. A tailored serge trouser suit and cream silk blouse that spoke more of Laura Ashley than Next.  She had a necklace on of chunky red beads, like cherries, which matched the colour of her lipstick.
      Rod offered me his hand.  As usual, it was like squeezing an uncooked chicken wing, fresh from the fridge.  He was wearing a check shirt with a red paisley cravat, top-range designer jeans and light brown Oxfords - the kind with the long tapered toe, as if his feet were shaped like trowel blades.  His hair and moustache were trimmed short - a natural brown, like fine crinkly tobacco. I noticed his bald patch was getting larger, like a big pink egg in a nest. His eyes were narrow behind his gold-rimmed half-frames.
      "How's things, Will?"
      "Good thanks, Rod. You?"
      "Can't complain.  Overworked, but better than the other thing, as they say."
      "Right."
      I could already feel the tablets wearing off.  Or maybe it was just that my anxiety levels had risen to counteract them.
      "Still at the Manor?" he asked.
      "Yes.  Still there."
      He shook his head.  "Such a wonderful job you people do.  I couldn't do it.  It's a scandal what they pay carers if you ask me."
      As usual, I couldn't quite figure out how he meant it.  Here was a man who'd built a fortune from making mass-market ornaments.  I was sure he thought what he did was important - and it was, in many ways.  It provided employment and, to certain people, enjoyment.  Good for him.  And perhaps he was being genuine in what he said.  But it felt like a put-down.  Did he mean anything by 'you people'?  Who were 'you people'?  And the drawing attention to what we were paid kind of suggested a comparison being made with his income.  Maybe I just read too much into it, though.  Over-thinking, as usual.  Maybe it was my history with Karen that led me to view it so negatively - like it was an indirect way of getting back at me.  I was never much good, though, in fully understanding what people might mean in any context.  If someone pulled my leg, I usually fell over.
      "I like your top, uncle Will," said Natalie, fingering one of the tassels on my black denim hoodie.
      "Thanks.  TK Maxx's best.  You look smart yourself."
      "Ah... that's because I am smart!" she said, with an impish grin.
      That made me smile.  She was right - though it wasn't meant as a boast.  She was smarter than her parents realised, I always thought.  It wasn't about her education, either.  There was a rebel in there, same as with me.  She told me once she thought of herself as her parents' karma child - there to remind them of what they might prefer to forget.  It was dad again.  It certainly wasn't anything from Rod's side.  Karen didn't take it, either.  All she took from dad was the jug-ear and something in the smile.  With her, though, it was just the shape her face took.  Some cats looked cute because they were cute. Others looked cute because they were waiting to scratch you.
      "Well," said mum.  We all turned to her.  "Here we all are.  And it's lovely to see you all together."
      "We're here for you, mum," said Karen.  "We wouldn't miss this."
      Rod clapped his hands and rubbed them together, like he'd just struck a deal with the Japanese for twenty-thousand plaster Samurai warriors.
      "So, Eve... shall we hitch up and hit the trail.  This horse needs his oats."
      I saw Natalie strain against a smirk.
      "I'll just get my coat," said mum.
(continued)