The Love of the Loveless (Chapter 6) (5)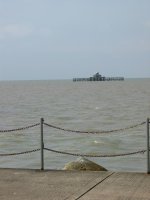 Sun, 03 Mar 2019
      Karen fished in her bag and brought out an envelope.  Natalie beat her too it, though, with one from her jacket pocket.
      Natalie's was one of those with facts about the year mum was born. 1925.  The price of things.  3d for a pint of milk.  £850 for a detached house.  The average weekly wage for men was a fiver. 5d for a pint of beer.  Famous people born then, too.  Paul Newman.  Richard Burton.  Both gone now.  Mum was captivated by it.
      Rod's and Karen's was more cutesy.  A painted landscape with a thatched cottage, smoke at the chimney, a garden full of flower beds, a bonneted girl sitting in a swing chair.  Sweet.
      "What a beautiful picture.  I'd have loved a cottage like that.  Right out in the country, away from it all."
      I handed over mine.  I bought it to go with my present - kind of as a clue.  A comic one.  A couple of codgers in a nursing home, looking at a photo album.  One is saying to the other 'They never text or email me.'  Mum chuckled.
      "Thank you all," she said and put them in her bag.
      Next came the presents.
      Some DVDs from Natalie.  A boxed collection of railway journeys from around the world.  She loved trains.  And she loved the idea of travel, though she'd only ever been abroad twice.  Once to Rod and Karen's gite for a week, and once to Portugal, about twenty years earlier, when a woman she did some cleaning for died and left her £500.  It was the most money she'd ever had at once in her life.  She never told dad exactly how much it was.  They just took the holiday, and she hid what was left under the wardrobe because she didn't have a bank account.  He'd found it, of course.  He always did.  He had a nose for it.  She never saw it back.
      "Ooh, now these will keep me occupied in the winter evenings," she said, running her fingers over the cases.  She gave Natalie a hug and kiss.
      "Thank you, love.  You should really save your money, though."
      "Don't be silly, gran."
      Next came a small, daintily-wrapped and beribboned box from Karen and Rod.
      "What's this?"
      "Open it and see."
      She took off the ribbon and paper and lifted the lid.  Inside was a brooch in the shape of an owl (she loved owls).  Silver, with dark stone eyes and a body of feather-shaped crystals in downward gradations of navy blue, turquoise and white.
      "Oh, look at that!"
      She took it from the box.  The feathers swayed with the movement.  She held it up and it sparkled in the light.  She looked open-mouthed from Rod to Karen.
      "It's beautiful.  Thank you."
      "That's alright," said Rod.
      "We saw it when we were out in France.  We thought you'd like it," said Karen.
      "I do.  I love it."
      She gave Karen a kiss, then leaned across the table to meet Rod's cheek halfway.  Karen took the brooch and pinned it to mum's jacket lapel.
      "There you go."
      She looked down at it, smiling.  She touched it and watched the feathers swing.
      "Lovely."
      I handed my present across.
      "I'm doing well today," she said, picking at the Sellotape.  She pulled the strip slowly, trying not to tear the paper.  One of her things.  If she liked the paper, she saved it.  She had a drawer at home full of saved wrapping paper, ready to use on something else.  She never used any of it, though, as far as I knew.  It just always seems a shame to waste it, she used to say.
      She pulled off the last strip and unfolded the flaps.
      "What's this?  Digital Photo Frame?"
      "Oh, they're great," said Natalie, looking.  "We've got some of those."
      Mum opened the box and slid it out.
      "What does it do?"
      "I'll show you, mum."
      I reached across and took it from her.
      "It's like a little TV, but it just shows your photos."
      I switched it on, then propped it on the table so that everyone could see.  The slideshow started.  Mum's parents first.  Mum let out a tiny gasp and put her hand to her mouth.
      "Where did you get these from?"
      "I borrowed them from your box.  Scanned them into the computer and cleaned them up a bit.  I think they've come up alright."
      I picked the frame up and turned it in my hands.
      "See... you can have it in portrait, or landscape, depending on the photo.  You can zoom in and out.  You can keep one photo, too, or have a constant slideshow, like this."
      She watched the images fade from one to the next.
      "That's wonderful."
      The one of her sitting on the wall came up.
      "Oh goodness.  It's in colour.  How did you do that?"
      "Computer magic," I  said.
      "I think that dress was yellow, though.  Not green.  I remember that holiday.  The Isle of Wight.  That was the year before we were married."
      Natalie looked closer.  "Gosh, gran.  You were a stunner."
      Mum chuckled.
      "Long, long time ago," she said.
      "Still are, mum," I said.
      Each new photo brought another catch of breath.
      "I don't know what to say."
      "You don't have to say anything."
      Finally, came the one of Michael.  Full page - bigger than she'd ever seen it before.  She put her hand to her mouth again.
      And then the waitress was suddenly standing there, holding two plates.
      "Who was for the beef roasts?" she said.
(continued)