Rocket Man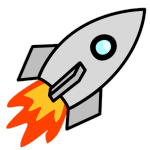 Thu, 13 May 2021
 
I didn't always want to be a spaceman, it sort of crept up on me from out of nowhere. Granny May told me to hold on tight to it because she said if I let go too soon I might regret it. I reckon she knew a thing or two.
I'm not sure if dad knew quite as much as she did though.
'Ain't the Earth good enough for you, son?
'You always told me to aim high, dad, you never said that I had to stay on planet Earth to do it.'
He pointed to me school books, tapped them with his dirty finger nail and shook his head.
'Unless you accidentally gave me the wrong school report last month and also found a spacecraft somewhere, you'd better start knucklin' down.'
I wondered if he'd let me go even if I did improve at school. Anyways, I decided to go searching because I'd heard that space rockets crash landed every now and then, and why not, they gotta come down sometime.
I asked Robbie Rawlingson to join me because he'd helped me find my lost dog last year, spotted her inside ten minutes he did. We'd all been searching half the day. He found her shivering inside our our garden shed, soaked through, right under our noses. Somehow she'd got stuck in there. Betsy was always the cleverest one out of all of us and me bestest friend, and the only one that knew all me secrets, but I never told Robbie that, just kept it hush.
Robbie was my ticket out of here though. He was the bunsen burner king, new all the sciency words, like hydrogeen and octygon, all you ever needed to reach the stars. Plus, his dad was a brain box, somebody even said he'd written a book about something once.
One weekend we got a tip off that an odd shape coming out of the ground might be worth investigating further. Dad was out so we rummaged around and found some digging tools from the garage. We was almost ready for the start of the mission. Robbie fingered mud on my cheeks and I did the same to him. We both wore red bandanas and shoved the equipment in our rucksacks. We was well excited.
We set off at a pace because dad would be home soon and I hadn't even started on the jobs he wanted me to do round the house.
Half hour in and Rob's pointed to something jutting out next to a fallen tree. We was on it in a flash. God knows what it was but it was strange looking, all glittery and bright. We agreed that we'd never seen nothing quite like it before in our whole lives.
After an hour of stuffing shovels round it, we realised we was running out of time. So we threw a load of leaves and soil over it and headed back.
Dad was waiting outside the back gate, hands on hips. Gave us the right frights.
'Bloody 'ell, well if it ain't Rambo and Rambo.'
'Just about to get the grass cut, dad.' I said, scampering past him with my head down.
'Then there's the homework, don't forget
the homework. You still wanna be that spaceman don't ya?' he chuckled.
'Yeah I wanna aim big like you dad.' But I bit my bottom lip hard and didn't say it out loud.
Truth was dad was a real worker. Even in his spare time he was making or fixing this and that. If he wasn't hammering, he was sawing, and if he wasn't doing those things he was up a ladder somewhere. He was a doer where I was a bit more of a thinker like mum was, not with fancy words, but in me head all the time. His dad was a doer too, and so it went. He tried to make me one too, but me heart weren't in it.
So I had this dream. This idea. It came to me one summer evening when I was lying in the garden with Rox (she was me girl). We was talking about the heavens above and I'd never given it all much thought until then.
'How far d' ya think, Rox?'
'What, the moon? Dunno, looks close dunnit.'
'Sure bloody does, Roxey.'
She raised her arm and was fiddling about up there. So I scooted underneath to take a peek.
And there it was, just perching within the circle of her thumb and forefinger like she'd plucked it out of the sky. A full moon, a bright white moon, right there in her hand.
'You got it, Rox, you bloody got it. Don't let it go too soon!'
Suddenly these enormous clouds came by which seemed to linger for months, and it felt like a giant stone had dropped inside me chest and weighed me down real heavy. I tried to find the moon again but just couldn't see it. In the end I gave up trying. Granny May then told me that anybody can walk under blue skies but it takes special people to walk in the rain. I didn't really know what she meant. But when we got Betsy, Granny told me she would soon start to fill the giant hole within all of us.
Anyways, it got me mind thinking. I was all busy and hardly slept a wink for nights on end. And what sleep I did get I was dreaming of rocketing through the atmosphere, leaving terra firma for dust with Betsy, soon to be the second dog in space after Laika in the Sputnik 2 (Robbie showed me the picture). Betsy was piloting and I was pressing all these flashing buttons above her head as if my life depended on it. We was a right royal team. When I looked down out of the window, I saw the house, the woods, Rox with her fingers in the air grabbing at the stars, I even saw mum holding up a banner saying, 'To Rocket Man, Joe. I just knew you'd make it!' and she looked just the same as I remembered her. It was right special. And then when Betsy caught sight of the moon she howled and barked like she'd seen a postman arrive at the front gate.
It was a few months later when I told dad about my dream after he got back home from work. But maybe he just had a bad day or something.
Maths was never me strong point, but Robbie said we'd need to be travelling fast to get through the Earth's atmosphere. He done some sums and handed me a note one day in science that said a book mentioned 25,000 mph. Now that had me right worried because me dad was a nutter of a driver in his Ford Cortina and that thing never went past 80. But Rob, when he noticed the look on my face, told me he might have added too many noughts.
The big day had arrived.
Tools - check!
Torch - check!
Extra hands (Rox was stronger than both of us put together) - check!
Betsy - check!
Darkness falling - check!
New Kodak disc camera - check!
One catapult - check!
Cola cubes - check!
We was off!
With the light fading, we found it harder to find the ship. We kept doing circles and ending up at the exact same spot. But of course Bets pointed the way, like all great labs tend to do, barking a good distance from where we'd ended up.
'This it?' asked Rox. 'What makes you think it's a spaceship?' She was kicking away the leaves like a girl possessed, then burying her arms down into the earth, feeling for any clues. Never seen her so freaked out before.
'Torch', she said. 'Give me the bloody torch! Shovel. That pick, give me the pick. No, that one! Ok. Wait...wait. I can feel something.'
'What goes, Rox? What is it?' I was bouncing up and down like a pogo stick. Bettie was running rings round the site, all eager, all knowing, sniffing about with her tail straight up all car aerial like. Rob... Rob? He was behind Rox up to his shoulders hidden in the darkness.
'Keep that bloody torch still, will ya. I thought I saw something.'
'Soz,' I replied, 'just trying to get the torch to work.'
I suddenly realised the batteries were dying and no amount of shaking would spark them into life.
Rox suddenly wrestled me down to the ground to try to eek out what light remained and after the light went completely out she clasped me hands and forced them to a surface which was curved and smooth, a bit like a window screen might feel.
At that moment, in the pitch black, I saw everything I had ever dreamed of. I grabbed Betsy so tight underneath her chest. I leaned us forwards, could hear her warm panting in my ears, could feel her heart's pulse counting us down from ten. We was going. Me and Bets was out of here. We was reaching for the stars just like I knew we would. And I wondered, if we were quick enough, whether mum would still be waiting there to meet us, with her welcome banner all sparkling and lit up bright by the moon.