The Avant-Garde Con Artist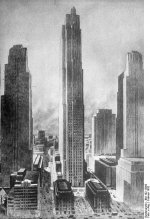 Sat, 26 Oct 2019
On any given school-day morning in 1968 I could be found sleeping on the bathroom floor. Curled up on the bathmat trying to recapture a goodnight's sleep before my mother would begin pounding on the door. 
Only moments before she will have placed an iced-cold washcloth over my face, when screaming her lungs out didn't manage to move me. 
Once on the bathmat I would do my best to savor the time I had. It would be a short savor. Five other people would need to flush, bathe and brush. They'd pull the door off its hinges if need be. I didn't stand a chance. The family would not tolerate my daily morning groan about the need for teenage privacy. But it seems fourteen year-olds were not in short supply at the time. You can be replaced, I was told.
After dragging my slumpy self out of the bathroom, I dressed, ate, and headed off to school. In one door and out the other was not part of the school curriculum at the time, but I considered myself an advanced student. I'll come back when they've all caught up, was my thinking. In the meantime I would hop a subway into Manhattan and see what the day would bring me. Ain't nothing happening in Queens. Nothing.
Rockefeller Center was not a place I'd ever thought of setting eyes on. That was for the tourists. But there I was on a chilly March morning, ogling ice-skaters, pretzel vendors, camera-toting Europeans, and wide-eyed Mid-western gawkers. All putting their best foot forward for the tourist trade of New York. 
Nelson Rockefeller was its governor and John V. Lindsay the city's mayor. (Mayor Linseed comes to mind. Mayor Linseed was the Lindsay-parodied mayor of Gotham City in the Batman TV series with Adam West and Burt Ward. That I remember this is another example of a misspent youth right here in parenthesis.)
I mention those names for no other reason than to show what a civic-minded lad I was. I had my finger on the pulse of the nation. Why confine me to a desk and surround me with numbskulls, when everyone knows I was meant to be a poverty stricken artist, cafe-hopping my way into the heart and mind of a local matronly philanthropist, who would enfold me in her dramatic black cape, whisk me away to her bohemian hovel, and shackle me to a typewriter, insisting I empty my heart with every key stroke. 
Instead I walked into 30 Rock and got hustled into the gameshow circuit by an over zealous usher.
Jeopardy tickets here! Who wants to see a gameshow!  I hear this — or something like it — and my beret, notebook and tattered copy of On the Road go right in the trash heap.
Did someone say gameshow?
I never actually had the beret, notebook and Kerouac in my possession. I had the illusion of those things. I was a one-of-these-days sort of day dreamer. So I'm sure I daydreamed that spending the day as an audience member of a gameshow would be a good way for me to hone my observational skills. Get in amongst the throng. Research. It was all research. Then I'd be on my way to the Village. I'd beat the Beats at their own game.
When the usher handed me my passport to go see Jeopardy I felt like Charlie Bucket with his golden ticket. I couldn't stop grinning. 
Get in line over there, I was told. Over there was the throng. Ready or not throng, here I come. 
Once on line I immediately felt out of place. Until someone said Is anyone going over to the Ed Sullivan theater tomorrow to see To Tell the Truth?  They'll be giving away tickets early in the morning. 
Ed Sullivan theater? The words rang in my ears and left me speechless. Ed Sullivan theater, I repeated to myself. Home of the Beatles first live performance in America? I have a shot at breathing in the aura that the Beatles left behind in that theater on a Sunday night in February 1964? My artificial avant-gardeness went right out the door at 30 Rock as I rode up in the elevator with the other lovers of daytime gameshows. I was one with the throng.
They filmed a whole week's worth of Jeopardy in on day. Five shows in a row, and I stayed for each one. Johnny Olson, the show's announcer, warmed-up the audience at the start of each show, and I won five bucks guessing the answer to some silly question of his. The fiver got me all giddy with the expectations of what I'd have for lunch now that I had money in my pocket. 
What do I need with Greenwich Village phonies anyway. I got lights, cameras, action right in front of me. No money down, and they're giving away cash. I found the new me: Follow anything that glitters.
I did get to the Ed Sullivan theater the next day to be an audience member of To Tell the Truth with your host Bill Collier. And it was truly awesome for a Beatles nut. Hey, you take what you can with what you got. 
Two months later the jig would be up as my mom sat home and watched as the camera started panning the studio audience of Eye Guess, one of my mother's favorite gameshows back then. That I happened to be in the studio audience at the time did not put me in good stead with the parents. A lot of fingers shook in my face that day. 
Getting to sit in the Ed Sullivan theater was worth all the shouted lectures, though. It was four years too late, but I swear I could feel a vibration in my seat from all the screams and shrills that went on that day. February 9th, 1964.
Rockefeller_Center#/media/File:Bundesarchiv_Bild_102-13093,
_New_York,_Entwurf_von_"Radio-City".jpg