Belly Up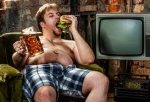 Fri, 08 Jan 2016
 "Give it to me straight, doc. I can take it."
"You're constipated."
This was news to me. Last night I was sure I had an enlarged liver, kidney failure and a raging ulcer.
"What? That's it?"
"I recommend Miralax. Mix it with the beverage of your choice and hope for the best."
"But what about my bloated belly? How do you explain that?"
"How many beers did you consume over the weekend?"
That's a trick question. He's always asking me that, and I never seem to have a satisfactory
answer.
"It's not my fault! When I was younger there was the six pack. Now there's the twelve pack, the
eighteen pack, the twenty four pack and the thirty pack. God help me if they come up with a fifty pack! To be quite honest, doc, it's not entirely my fault. Actually, I've cut down quite a bit on my beer
consumption."
"Glad to hear it. How much less?"
"You see, I've been drinking Stella. Stella contains 11.5 ounces of beer. Most other beers I drink
are a full 12 ounces. I'm guessing that over the course of the night I'm drinking one less beer than usual."
He didn't buy into it, but it was worth the feeble effort.
"Cut down on beers. Eat more fiber. And get some exercise."
"I do exercise."
"Well, what ever you're doing isn't working. Try getting out of your chair once in a while."
I tried to explain that playing guitar, ukulele and singing were good forms of exercise. They
involved a lot of toe-tapping and right arm swing action. And singing is good for the face muscles. I said all that while staring at the ceiling. It was an awkward attempt to hide my turkey jowls. My
theory, and jowls, were ignored.
As I write this I realize I forgot to mention to my doctor that writing on my keyboard is another
splendid form of exercise. I can feel my pecs humming at this very moment.
Now I'm thirsty and it's the weekend. Wish me luck. I'm gonna need it.