Black and White - A Craven Danger Mystery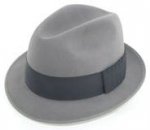 Fri, 28 Mar 2014
1 likes
Craven Danger flipped the switch on his intercom.
"Betty?"
"Yeah, Mr. Danger?"
"Didn't I ask you to bring me the newspaper?"
"I seem ta remember ya mumblin' somethin' about bringin' ya somethin', Mr. Danger. 'Coulda been a newspaper. Coulda a been a Cocker Spaniel. Coulda been a hot fudge sundae. Ya don't always make ya self clear. And ya don't always say please."
"Well, how's this for clear, Betty? Can I have my newspaper, puh-leeze?"  
"Not yet. I already started reading it, Mr. Danger. Ya can have it when I'm done. And maybe not even then. I'm only speculatin'."
"I'm not getting my newspaper?"
"No."
"Ah, geez, Betty. You really know how to make a fella feel like he's not runnin' things the way he set out to run them. If I didn't know any better I'd swear you thought you were in charge."
"Yeah, Mr. Danger. If only ya didn't know any better."
"Hey! That wasn't some sort of wisecrack, was it?"
"No, Mr. Danger. It was just me thinkin' out loud again. Next time I'll try ta keep my thoughts ta myself."
"Nah, I wouldn't want you to hurt yourself, Betty. Now, about that newspaper?"
"How about I read it ta ya?"
"What?"
"Ya know, Like when President Roosevelt read us the comics on the radio when the newspapers were on strike."
"Oh, this ought to be a hoot. Only don't read me the funnies, Betty. You're no Orphan Annie and I'm no Daddy Warbucks. Just give me some news. What's it say in the headlines?"
"It says, Banker Accused of Adultery, Fraud and Embarrassment. Exclamation point."
"Don't read me the punctuation, Betty. You sound like a telegram. And I think you mean adultery, fraud and embezzlement. Not embarrassment."
"I think I know what I mean, Mr. Danger. It says here that the banker was mortified to be caught with his pants down and his hand in the cookie jar."
"Ah, it don't say no such thing, Betty."
"I'm only reading between the lines and tryin' ta give it ta ya straight, Mr. Danger."
"What else does it say?"
"It says that the banker's wife wants his head on a platter and tossed in the oven with the roast beef and potatoes. And if they let the cheatin' scoundrel out on bail, that's exactly what he's gonna get. The accused requests that no bail be set. He says he'd rather sit in stir with the lowest kinds of mugs and hoodlums, then go home and have dinner with his wife. It says here he's not liking what's on the menu. End of story."
"Word for word, I'm sure."
"Ya oughta be grateful, Mr. Danger. I saved you from reading about a thousand unnecessary words and punctuations that was no way as clear as what I just told ya. Now you have more time to let me finish my newspaper in peace."
I'm not even going to answer that one, thought Craven. By the time I figure out what she said, I'll be screaming for an aspirin. 
Craven Danger then switched off the intercom, put his feet up on his desk and fell fast asleep dreaming of the day when he had a firm grip on life, and his newspaper.