Hang On To Your Fedora - A Craven Danger Mystery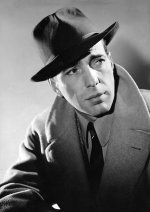 Sun, 30 Dec 2018
"Lose the fedora," said the big boss at the warehouse. "Night watchmen don't wear no fedoras."
"But I ain't myself without my fedora."
"And you ain't gonna be my night watchman with it. Only one guy gets to wear a fedora around here, and that's me! And lose the dime-store Bogie duds you're wearin'. You're a long way from Casablanca, pal. You'll find your uniform in the locker next to the toilet. Just watch out for the rat. He was here first and takes his seniority pretty serious. Now follow me."
Craven Danger shot a few imaginary bullets into the back of the big boss and wished he were sitting at his desk waiting for the phone to ring and getting some verbal abuse from his secretary. But since the phone's been disconnected and he's late with the rent, and his secretary hasn't seen a pay check in over six weeks, Mr. Danger figured a little moonlighting was in order. The Craven Danger Detective Agency would be on hiatus until further notice from the landlord.
"What sort of goods will I be keepin' my eye on?" said Craven.
"Never you mind what sorta goods we got! Your job is to see that no one comes snoopin' around here after hours! And if anyone does come pokin their nose around here? Shoot to kill!"
"Kill?" said Craven. "Isn't that a little extreme? Can't I just blow a whistle, or yell 'who goes there?'"
"This ain't no Bowery Boys B movie, mac. The kind of mugs comin' after the goods we got ain't gonna be stopped by no 'How do ya do's.' These mugs'll have fangs and claws and move as swift as alley cats. Shootin' to kill is your best bet." 
"I was hopin' you was kiddin'"
"No joke here, pal. Just make sure you shoot straight. You end up shootin' up one a them crates and kablooey! Your next outfit will have wings and a halo. Get me? So, if you got any jelly in them knees now's the time to tell me. We can part ways and I'll give the three hundred smackers to some other poor shlub. You'll be here for two weeks. We hope."
"Three hundred Benjamins? That could sure put me back to where I need to be."
"And if ya don't make it out alive I'll see ya get a proper burial. Only I don't suppose they'll be much of you left to bury. If one a them crates goes off you'll be rainin' all over the city! Ha! A regular Craven hail storm!"
"Is this the part where ya tell me you're kiddin'?"
"Ain't nothin' funny about the business I'm in, friend. You do know how to shoot a gun dontcha?"
"Sure I do. I don't care what she says!"
"What who says?"
"Betty Felcher. My secretary. Just 'cause she got all them sharpshooter patches during her time in the army she thinks she's the cat's pajamas! Always on my case about what I can't do and what I should do to make a better man outta myself. Always lifting me up by the scruff a the neck when I'm outta line and need to be sat on. Sometimes she makes me feel like a kid in a time-out corner.  But I tell ya one thing! She ain't puttin' no dunce cap on me just yet. I got potential! At least my ma seems to think so."
"On second thought, Mr. Danger," said the big boss. "Hang on to your fedora. And just how do I get a hold of this secretary of yours?"
"Oh, no you don't! I was here first!"
"No. I was here first," said the big boss. "And this Betty sounds like the kind a spine I need around here right now. You? You make me nervous. I'll just look her up in the book. How many Betty Felcher's can there be?"
"There's only one Betty I know of," said Craven. "And she's doin' it to me again when she ain't even here. There's gotta be a voodoo doll with my hat on it in that woman's purse. There's just gotta be." 
Craven Danger donned his fedora and stepped out into the pouring rain that is his life. 
Photo courtesy of Wiki Commons: https://commons.wikimedia.org/wiki/Category:Fedoras#/media/File:Humphrey...
'