Hortense and Manny - Part One - A Craven Danger Mystery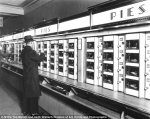 Sat, 27 Feb 2016
"Where ya off to, Mr. Danger?"
"I'll be back in two shakes of a lion's tail, Betty."
"You better not be messin' with that new private detective Manny Moreso again. Him and that dame a his ain't nothin' but trouble."
"Trouble is my middle name, Betty."
"I'll remember that and put it on ya tombstone when that Moreso  character fills ya full a lead. He don't like you, Mr. Danger."
"I know, Betty. So I'm gonna track down his girl and ask her why. How dare anybody not like me! I'm gonna make him like me if it kills me!"
"Okay. I'll call the cemetary an' make all the preperations. Are ya stickin' with the midde name Trouble?"
"Why don't nobody take me seriously!"
******
"That Craven Danger doofus was just dogging me, boss, so I ditched him."
"What a rube!" said Manny Moreso. "One score and ten and still wet behind those cavernous ears of his."
"That ain't the only place he's wet, boss. A few streets back I caught him spittin' in the wind. He landed a good one, too. Right in his own kisser! Ha! That's when I ducked into the automat. Only, he gets the same idea and ducks in too. But he only come in lookin' for a napkin to clean off his slimy mug. He cleans himself off and was about to leave when he spots a slice a banana cream pie behind the little window. Then he looks at the front door. Then his watch. Then back to the pie. Then the door. The watch. The pie. Door. Watch. Pie. Door. Watch. Pie. By the time he made up his feeble mind, he was droppin' nickels in the food slots like it was his last meal at Sing Sing. When the dust settled he was juggling a cup of coffee, a banana cream pie, a double-decker roast turkey sandwich with the works, a side order of macaroni and cheese and a pipin' hot bowl of New England clam chowder with complimentary crackers. I tell ya boss, I coulda sat down next to him and he woulda never paid me no mind. Boy, could he shovel it in!"
"Ha!" said Manny Morhouse. "Was that sweet, delicate flower with him?"
"Nah, boss. The redhead was nowhere in sight."
"Pity that. I should one day like to shower her with pedals of roses and daffodils as we go sailing on a slow boat to China. Another day, perhaps."
"I'm sure, boss."
"Hortense?"
"Yeah, boss?"
"You've been my personal assistant, oh, it must be twenty years now."
"Nineteen years, one month an' twenty seven days, boss."
"You are the efficient one, aren't you."
"Ah, it ain't nothin', boss."
"You've had the finest of educations and come from a long-line of Yorkshire women who've taken pride in their dedicated service to their employers, and who have also prided themselves in their ability to utter the King's english as though it were a sacred trust."
"Ah, ya makin' me blush, boss."
"Mind if I ask you a question, Hortense?"
"Bombs away, boss."
"Why in damnation have you suddeny taken up the hell-bent lingo of the common street urchins who dwell on this infernal island of deadbeats and horse thieves? Are you drunk? Again?"
"I beg you're pardon, sir. I wasn't aware. It's just seems so much easier, really. You simply shut down your brain and start talking. You don't have to think about what you're going to say. You only need to open your mouth and the words tumble out quick as lighting. It's quite exhilerating!"
Manny Moreso switched off the intercom, sat back in his chair and put his feet up on his desk.
"Oh, take me home, sweet Brittania, take me home!"