Hortense and Manny - Part Three - A Craven Danger Mystery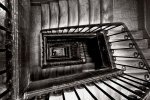 Fri, 25 Mar 2016
Craven Danger put his hat over his face and plopped down on the second floor landing of the building housing the offices of Manny Moreso, private investigator.
"Ya okay in there, Mr. Danger? Ya seem a little winded."
"Yeah, Betty. I'm only hyperventilatin'."
"Well, ya better come out for some air pretty soon, Mr. Danger, or ya gonna be hyperhallucinatin'."
"It must be the air in this building, Betty. Back at the office I'd be taken them stairs three steps at a time and not lose my breath once."
"That's 'cause back at the office ya only got three steps in the whole flight. An' ya only got the one flight."
"There ya go again, Betty. Always takin' the words out of my mouth, twistin' them this way and that before rollin' 'em up in a ball, sock 'em outta the ball park, leavin' me with nothin' left to chew on but my own tongue. I don't even know why I bother openin' my mouth!"
"Ya know, that's something I always wondered about, Mr. Danger. Maybe ya outta try sign language, or another language entirely, like english."
Craven removed the brown fedora from his face and put it back on his head.
"One of these day, Betty, I'll get in the best last word, but I'm guessin' it ain't gonna be today. Now, let's get back to business."
Craven Danger and Betty Felcher had decided to pay Manny Moreso a surprise visit. Since moving into the neighborhood, Mr. Moreso had not been receptive to Mr. Danger's attempts at a friendship. But Craven Danger never takes no for an answer. Just ask his bartender.
"If we're gonna be working in the same neighborhood, Mr. Moreso, we gotta come to some agreement. Ya can't be goin' around stealin' all my clients and tellin' the neighbors I got my PI license at the dog pound! I am not a poop inspector. I'm a private investigator like you, Mr. Moreso!"
"Please. It's Mr. Moreso, sir. Let's not forget our manners because we're living in America."
"Are you gonna take that from him, Mr. Danger? Maybe ya outta  try some a that sign language and slug him one in the jaw!"
"Betty! We're here on a mission of friendship. Nobody's gonna slug nobody! Mr. Moreso, sir, I offer you my hand in friendship. This neighborhood is plenty big enough for the two of us. Whaddaya say we bury the hatchet and shake on it?"
"Terribly sorry, Mr. Danger," said Mr. Moreso. "Did you say something? I'm afraid I was a bit taken aback by the rapturous redhead who is gracing my office with her exquisite beauty. It left me a bit breathless and unable to hear a word you said. Manny Moreso at your service, Miss Felcher. You are downright intoxicating, my dear. I smell a steamy romance and a honeymoon suite at the Plaza."
"Are you gonna take that from him, Betty? Betty? Betty!"
"Why thank you, Mr. Moreso. I --"
"Please, Miss Felcher.  Call me Emmanuel. Manny is much too common a word to pass through lips so full of amorous allure."
"You're gonna get it now, Mr. Moreso! Betty don't like that kind of talk from strangers. Tell him, Betty. Betty? Betty!"
(Picture credit: http://www.brainchildmag.com/2014/10/daunted-yet-determined/)
.