Sunday in the Park with Craven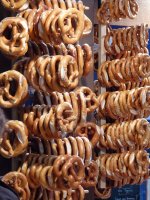 Fri, 14 Apr 2017
Sunday in the Park with Craven
Central Park
A Sunny day in April, 1948
"Step right up! Get your red hot poems here! Only two bits a piece! I write 'em, you buy 'em! Get a flowery ode for that lucky sweetie in your life! Step right up! You there young fella! Step right up to the man with the typewriter! You got sap drippin' all over ya!"
"Hey!" said Craven Danger.
"I mean you seem like the kind of guy that's sweet on someone special. And that sweetness is oozin' out of every pore."
"I know what you meant, ya wise guy! And the answer is no! You ain't suckin' me outta my hard-earned two-bits! I got Betty to think about! Speakin'of Betty, I gotta go get a nice hot pretzel with mustard."
"Never mind gettin' her a pretzel, pal. I'm bettin' she'd love a romantic poem even better."
"The pretzel's for me. I'm hungry. All I mean is that Betty can also be hot and salty, just like a pretzel. And she can be full of mustard when she gets her dander up.  So when I think of Betty I get hungry and start thinkin' pretzels. And pretzels are all I can afford at the moment. Ain't easy being a detective without a case or a clue to piece it all together with. Pretzel's will have to fill the void  as well as my stomach."
"Forget the pretzel, mac. I'm tellin' ya that this sweetheart of yours needs her very own poem. I guarantee she'll be crawlin' all over ya with her best kisses ever. She is your sweetheart, right?"
"My sweetheart. My mother. My sister. My partner. My preacher. My warden. She's also my secretary. Only she ain't too keen on the secretaryin' part of her somewhat enchantin' splitzoid personality."
"Go on, bud. I can type and listen at the same time."
"It all started out with me hirin' a secretary in the first place. That would be Betty. But in the two years since, she's turned into so much more. It kinda scares a guy. Ya know?"
"Sure I do, brother. Love can be scary. Tell me more."
"Love? Love ain't got nothin'' to do with it. It's Betty that can be scary. It's like she can see right through me. Knows what I'm feelin' an' thinkin' even before I get a chance to think or feel what it is she's seein' in me that I don't have a clue about. It's like I don't even know what to think or feel anymore without turnin' to Betty first. Like I'll say, 'Hey, Betty,' and before I get a chance to finish what I'm 'Hey, Bettyin' about,' she already tellin' me how I shouldn't even be thinkin' about goin' down to the Ned's tavern for a nice cold brew on account of I ain't been bringin' in any dough. Then she tells me to stop sulkin' even before I get the chance to put on my sulky face. It's a swell one too. I practice in the mirror. It works good on Ned the bartender who's been runnin' me a tab. And when Ned tells me no more beers until I pay up what I owe, I give him the sulky face and before I know it I got my kisser in a mug full of icy cold suds. But Betty? I may as well be sulkin' at a corpse. That's how cold and scary Betty can be when I ain't bein' the man she thinks I should be."
"Done!"
"Done what?"
"I finished the poem to your sweetheart. No charge if you're not completely satisfied."
"No charge is very affordable at the moment. Let's hear it."
"I call it, I Ain't the Man You Think I am, Ma'am. And it goes like this. . .
Some fellas are made to be brutish
with brains full of nothin' but brawn
while others are kinda romantic
a regular Mr. Don Juan
me, i'm somewhere in the middle
i think it's a part of my charm
though I ain't the man you think i am, ma'am
i can be if ya twist both my arms
"I take it back,' said Craven. "There ain't no charge cheap enough for a piece a crud like that. Now, where the heck is that pretzel wagon?"