The Easter Rat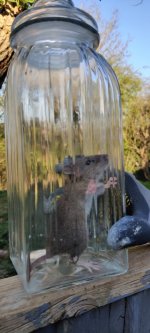 Mon, 05 Apr 2021
2 likes
He's got a rat, Mango's caught a rat!
Mango can't catch anything..
He was once hit by the Amazon van,
It broke his pelvis, his back, his tail.
Let it go Mango, hold back the dogs!
The dogs dozed on, curled up like snails
I've got Mango but where's the rat?
It's in that corner in the shoes
It's not it's gone, it's disappeared
The rat was indeed removed….vanished
Hours passed, a lazy, quiet Easter day
Yet one of the dogs, the sensitive one
Strangely on edge, resisted all sleep
Mango's sister, Melon returned
And suddenly switched on
Her every prowling, feline technique
Air sniffing, eyes flashing, claws digging
She slipped and stealthed her way
Into the lounge to the mystic rodent
Who was meditating beneath a bookcase
Get Melon out, take her away!
Bring the snack jar in her place
We flushed the rat but he was fast
Like a tiny greyhound on a track
He was a handsome little guy
And very clever too, indeed a triumph
Of the natural world, he would survive
This trial and many others too
The snack jar, he was trapped inside
Tiny pink hands against the glass
We held him up, like a trophy
With all semi-domesticated creatures
Safely locked away, we took our rat 
Dropped him over the fence
Upon a trampoline of cut grass
He bounced once and ran away
The Easter rat returned safely
To something resembling the wild
All evening Mango intermittently cried 
For what he found and lost, his prize
We stroked his mangled back and ego
The Easter rat - a message of survival and tolerance