The BC Adventure 30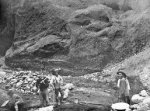 Sat, 07 May 2016
c/o Campbell's Store
Quesnel Dam,
Nr Williams Lake BC
July 25, 1922
 
Dear Mummy, Daddy and Margaret,
I hope you got my wire telling of my safe arrival. Our cabin in not much different from the one we had in Salt Spring, but this is bigger. There are several bedrooms, so Eric will have one, and we will need to put up any important people that come while we are here in the other one.
The first man to come to visit has already been. He is the man who made the original claim on the land about nine months ago now, and the newspaper articles were telling us how successful he was. However it is a disagreement over the boundaries of the various claims that are causing there to be an injunction which means that nobody can pan for gold or do any kind of prospecting until the dispute has finished. This put off a lot of the people who were here trying to get rich quick, and a great number of them have gone home.
I'll tell you a bit about Albert Platt. He was born in Newcastle where his father was a potter, and he is about 30. He and his sister emigrated to Australia and he joined the Australian Army in 1915. He served in the Gallipoli where our great friend and sort of relative, Charles Tree was killed early in the war. (Mark's brother Duncan married May Stinton, and her brother, Tom, married Carrie Tree.) But he didn't finish out the war and was medically discharged in 1917. He went back to Australia and did some gold mining there with great success. So he came here, on hearing the rumours of gold waiting to be taken from the river, and hopes to
make a killing here.
He seems a nice man, but I am really missing the company of other women, especially during the day when Mark is out doing whatever it is he does.
I did meet a nice woman on the trip, so maybe I can take a horse and ride over to visit her sometime. She is called Caroline Bellmont. She and her husband Bill live in a large house between two lakes. They have a baby called Vera, who was born a few months ago. She says as there is no doctor around, you have to make do as well as you can. She went into labour early, and was able to get the attention of an Indian woman who was fishing on the lake, and she came and helped her deliver the baby. I'm glad I don't have such things to worry about. She says everyone thinks their house is haunted.
I've enclosed a snap of some of the men working near the dam.
I must go now, but will write again soon.
Love
Gwenllian