Chet and the Prisoners - 8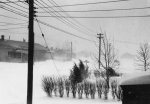 Mon, 17 Oct 2016
Toyo
March 5
I was on KP duty last week when we had the arrival of another group of new internees – and it was my job to wash the rice. First I did half a packet, and then when we were told there were nearly eight hundred coming, I did three more sacks. And when it was time to cook it, it took over the entire cooking space.
But what chaos ensued. These new people had no idea of the way things worked around here. They rushed into the room, sat anywhere, and expected to be waited on. They were noisy and messy and immediately gave a bad impression of how things were to be with such huge numbers of us. I felt both distress and pity. I was worn out by the time that day ended.
It is snowing again, but at least it is not quite so cold when it snows. But I still have not enough money to buy new shoes.
I decided to make my new house more like a home, and having found an empty apple box, I attached it to the wall near my bed to put my personal possessions in. Then I made a small shelf that I can use for my suitcase, so I don't have to reach under my bed for it each day.
Today is my daughter Chiyo's first birthday. I feel badly that I have no money to send a present, but at least I can send a letter to mark the occasion. My money all had to be left in the possession of the federal authorities on Terminal Island. I wonder if we will get it back at the end of this confinement.
On returning to my room one day, I was informed by my friend and our group leader, Mr. Maroto, that there is a package for me. I cannot think what this might be, and it turns out to be a box of  oranges, sent by a friend of my wife's from home, Miss Margaret Watkins. I give two oranges to the mailman, and then two each to 50 of my best friends. I save three to give to Chet for his family for when I next see him.
In my mail I have been notified of some remittance money which is due to me will arrive soon. I need to write a thank you letter to Miss Watkins for her kind gift, but I fear my English writing is not yet good enough for the task, so I ask Mr. Kusumoto to write it for me.
I have written again to my wife Takako, and have received letters from her. They are still at home but expecting to be transported soon.
March 6
I have not yet received my money order as promised, but there are essentials that I must buy, so I asked Mr. Shintani for another loan. He lent me three dollars. We had a group meeting and decided to pool some of our resources together to buy things we need in common like soap and toilet paper, and each contributes a dollar to the fund.
On Saturday night, our time for sharing our talents, Mr Tani and Mr. Otomatsu entertained us with a display of their magic tricks.
On Sunday, I know that I will see Chet again, so I go to wait outside the hospital with the three oranges I have saved for him.
(it is now evening)
He was very pleased with them, and says Ann and Kathleen will be pleased too.
On the days when I am the receiver of personal grooming, Mr. Tsuno, the other barber in our group, shaves me and trims my neck area and hair.
The plan for entertainment for this evening is a large social gathering including the new members of our group, and there will be singing and Japanese folk dances.
(it is now later still)
But now I must write that our hopes were dashed. First of all the weather was sub zero and it was felt no one should venture out. And also the officials felt the hall was not sufficiently large to entertain the numbers of us who would be attending.
In our room we had our own little party, and Mr. Mtsantani and Kiyo Hamaji entertained us with their Manzai. I must explain what that means. It is a traditional style of stand-up comedy in Japanese culture. It involves two performers (manzaishi)—a straight man (tsukkomi) and a funny man (boke)—trading jokes at great speed. Most of the jokes revolve around mutual misunderstandings, double-talk, puns and other verbal gags. We enjoy this very much.
March 7
We do our usual exchange of soiled sheets for clean ones from the laundry. And I write letters, but we now have something else to help keep up entertained and informed. It is a radio, and we listen each night to the news. When I mentioned this to Chet, he suggests that I write down all the stories that I hear on the news in my diary, as it will fill up my time, and help with my writing in English. 
We sometimes get given jobs, or volunteer to do them without being forced to, in order to fill in our very long periods of boredom. This time I have offered to help with the construction of another barracks building. It seems our numbers are to be increased again. In the evening we listen to the news, and I make notes to write it all up the next day.
12 March
I still have not been given the money that was promised me, and each time they say it will come, it doesn't come and they then make a further promise.
They show movies here on the weekend, and this was my first time of going tonight. It was a cowboy movie about the casinos in Reno Nevada. I thought it was very good. It is called Reno  The
story is that a woman gambling in a casino loses money and sues the boss trying to get it back, But the main character suddenly recognizes her as his own daughter, Joanne, someone he hasn't seen since a long-ago divorce.
15 March
We are completely snowed in, and I did not expect that Chet managed to get to work today.
16 March
Today we had a very good lecture from Professor Sto, who was a passenger on the lat Japanese ship to leave Yokahama for America before the war. It is good to be enlightened about world  events.
March 18
Montgomery Ward store from Bismarck has also set up a temporary retail outlet within our camp to join the one from Sears. I browsed about their display of merchandise, but had no choice but to walk away. I lack the barest of financial means to make any purchases.
This evening we were entertained as Mr Hamaji presents his one man manzani and Mr Sumizono sings the traditional Japanese ballads.
At 8.30 I proceeded to the kitchen to sign for and be fingerprinted for the $10.00 in wages that I am to receive for my labors in the kitchen. Finally I can pay off my debt to Mr Shintani of $3.00. But even after that, I feel rich.
And my riches continue. The next day I am summoned to the camp office. There I endorse an American Express Travelers check, and receive cash which I carefully stash away. There are banking facilities within the post office area, so I open an account, and will be given a check book.