Diary of Susannah Woychik, 1868 5 - Finally in America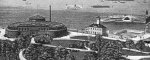 Fri, 06 Feb 2015
Friday,
Jak ci widza, tak ce pizza
How they see you, that's how they perceive you
The steward came up to us. "They want to look at your beauty spots today," he said. In the after noon we were mustered below. We knew we could not land without proof of our smallpox vaccinations  and if the doctor was not satisfied, we would have to have it done again.
We rolled up our sleeves. The men were attended to first, the steward explained, because some of the women might have to take off their dresses. One by one we stepped forward, showed our arms, and received a ticket and then climbed the staircase. Some children and a few older people had been missed out, so they were vaccinated.  One woman said that she had evaded compulsory vaccination in Germany because she did not believe in it. She said, if possible, she would turn around and go back, rather than have her children vaccinated.
One man made a stir by refusing to be dealt with and insisted that a knife scar was his vaccination mark. But when told he couldn't enter into the US without an injection, he agreed to have it.
The days seemed endless. I tried to teach my brothers some more English phrases, but they were not interested. Some people just lay in their bunks all day and the smell in the steerage area was  very foul. Moma suggested I walk around and try to find out more about our co-travellers who would be going to the same area as we are.  I don't know if I can be bothered.
Monday, May 18th
We had expected to land yesterday, but the delay in Southhampton and the storm slowed our passage. All Sunday we ran through fog, off Cape Brace, anchoring in the lower bay at night. Tomorrow we shall be on land, but have another frightening experience – Castle Garden (pictured above, on Ellis Island) . Captain Meier assembled us on deck as we were approaching our destination, and said that as voyages go, this one was a success, with no lives lost. We all gave him and his crew a loud cheer.
The sailors have told us tales of Castle Gardens – how children had eye disease, so they were sent back while the parents stayed.
The fog has now lifted and we can see the New York skyline. It is beautiful, yet frightening.
A small ferry took us from the ship to Castle Garden. As we entered the great circular building we saw the walls plastered with notices in all languages. Yankee Doodle in effigy was looking down from the top of the restaurant.
The custom house was a worry to those who had fastened their luggage in such a way that it could not quickly be opened. Our bags were passed and the inspector didn't even touch any of them – just glanced at them. After they were finished with, the baggage was put into a store room, and we had to undergo our inspection. Again, they were looking for paupers and criminals, or those that might have infectious diseases. In the rotunda, the light came from the dome – seventy five feet high. The floor was divied into small enclosures for a post office, money exchange and a restaurant area. As we walked by, each was stopped at a registration desk and had to provide their name, age, nationality, destination, and the ship on which we arrived and date of arrival.
The official spoke in German, "What's your name and ages?"
Pa spoke for all of us, and the official didn't even look up to see if our supposed ages looked right.
"Where are you from and where are you going?" Pa supplied the details.
"Have you got a train ticket to get there?"  Pa said, "Not yet."
"Ever been there before?"  "No."
"What do you do for a living?" "Farming."
"Where will you live?" "We have relatives there who will find us a place to live."
"How much money do you have on you?" "Two hundred dollars." I rather suspected he was making this larger than the reality.
Our head money was $1.75 each so Pa gave the agent $12.25. We knew this was coming, so it wasn't a shock, but we still had our train tickets to buy and food.
A Polish woman by my side suddenly became aware that she had one less child clinging to her skirts.  She implored for someone to bring the child back to her. She appeared to have no husband, and somewhere there must have been a child, fearful, crying for its mother.
"Gedya moya shena?" asked an old man meaning where is my wife. I suspect she was considered not up to the standard and passed on to someone else to deal with her.
A Russian youth was separated from his family, who were intending to settle in North Dakota, and he, the mainstay of the family has gone, and they are perplexed and distracted.
A woman with three children has two of them taken from her, because they are suspected of having trachoma. The mother too has it, but her husband, now an American citizen, has come to claim her. She passes in while the children are held in custody. They are expected to be deported.
A Silesian peasant edges up to Pa, for he hears his familiar speech. He says, "How far I have travelled from Berlin and now they tell me I must go back. I have spent all my money. Must I go?"
Pa says that he doesn't know, but chances are that tomorrow he will hear that he is over fifty, not too well built, warn out by hard labor, he has not much money and is likely to become a public charge so he probablhy will be returned to Hamburg.
Finally we made our way through the building, and none in our group was turned back. We were told where to wait for a train which would take us into central New York – and another from there on to Wisconsin. There were train agents within the building, so Pa was able to buy our tickets, and they  dealt with rechecking our baggage and taking it to the train without charge. We were a very weary group as we waited that night for the train.  We sat on a bench and had a meal of bread and cheese and water.
Later
We are finally on the train, but this our new home for the next period is nothing better than a boxcar, meant for transporting grain. The seats are wooden and moveable so that when we arrive in Chicago, the train can go back with products instead of people. Our cars are at the front of the train, and we were told that these are the ones most likely to catch fire or be derailed. The coaches farther back were for those who could afford to go into first or second class. One man offered to pay more so he could have a better seat, but he was told that it would not be allowed, as he would possibly contaminate the other passengers. We were placed two by two,  with no seats to spare, and our luggage was in the same place with us, making it very difficult to move around. Everyone seemed to be smoking and the atmspher was very foul. We had to choice, if we wanted to sleep, but to do it sitting up.
An emigrant trains make no connections. It keeps running until it gets in the way of another train, and then it is shunted to one side until the track is clear. We started at 8 p.m. and it is now 11. We are so tired. My youngest brother is snuffling miserably.
Wed. May 20
At Albany, Rochester and Buffalo agents examined our tickets. The long hot dusty days lapsed into long hot dreary nights. The trains average about two miles an hour.  Three or four times a day we stop while the train takes on fuel, and on these occasions we are allowed out to stretch our legs and buy the odd drink or bit of bread from a wayside merchant. There is a toilet at the end of each carriage, but ours soon was so disgusting that nobody wanted to use it.  After fifty six hours of misery, we arrived in Chicago.
Luckily our Silesian group had more or less stayed together, and the conductor knew that we were all wanting to get from Chicago on another train to La Cross, Wisconsin. So he arranged for our carriage to be shunted to the right train, which was a huge relief.
Friday
Our train went through many towns and cities, but we hardly took anything in. We were tired and hungry and very depressed. We are nearly in La Crosse. It has taken another two days.
When we got off the train, hoping to be able to board a steamship up the Mississippi, we were told we had missed the one for that day, and it would be another two days until another arrived.  Pa had enough money to book our family into a hotel, all of us sharing one room, and that is where I am now, writing this all down. This is not how I thought it would be.