Letter from Burma 6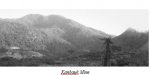 Mon, 22 Feb 2016
Heinda Mine
Tenasserim
Southern Burma
February 9, 1935
Dear Mother Day,
How are you? I understand that Jimmie has pneumonia. I hope he is soon better. You have had such a hard time in your life, with your husband dying so suddenly, and now your son also being so ill. What will happen to Patrick if Jimmy dies? Is he in a good school? His mother died shortly after his birth, I seem to remember, and he is an only child.
We have had a very busy time of it this last week. And the mosquitoes have been unbearable.
We are trying our best to get some baby chickens. I put one hen on 10 eggs last Friday, and another one on the same number on Sunday. Today I put one hen on eight duck eggs. Perhaps Harold would be the one to ask about eggs, or does he only have pigs?
We have had a pleasant time with our friends the Newnhams who live in Pyningyi. We stayed overnight at Kanbauk, which is a tin mine similar to ours, where John Newnham is in charge, and then back to Pyningyi for tennis on Wednesday, and Tiffin with the Mayfields on Thursday.
I expect Harold will know something about tin mining, so I will add in some details for you to pass on to him. At Kanbauk the lodes are often drusy. The area is very good for deposits of alluvial cassiterite. I don't know what it means, as I expect you don't – but I took notes when we were there, so I could remember what they were talking about.
Do you have flying squirrels in England? I can't remember. We certainly are entertained by the ones we have here. On Sunday we climbed round on the rocks,
and in the afternoon had a bathe. The weather was almost perfect.
Love,
Gwenllian and Mark