Susannah Woychik's Letters - 10 1892-1896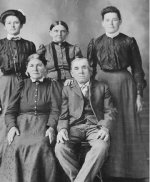 Tue, 24 Feb 2015
Independence, Wisconsin
15 October, 1892
Fried, Stutsman, North Dakota
Dear JA and Mary,
How nice to hear about the birth of your son on April 9th. And I see you have named him Alexander, so supposedly you thought there were too many Johns around already, what with John Suchla next door and all.
I have one son at University, and another who has just started school. That is Albert. It seems strange only having the one at home with me during the day.
We went to the Fireman's Ball last week, and although it was fun, they must have found the going tough, because the firemen had to agree to make up the deficit, if any, out of their own pockets. There was and they did! The total receipts for the Fireman's Ball were $50.85. Paid out: $66.25. Up until not too many years ago the firemen had to pay a 25 cent fine if they failed to show up at a meeting. Only two excuses were accepted. If the person was sick or if he was out of town, he didn't have to pay the quarter. This caused quite a bit of trouble, it seems. But they didn't make enough out of it to make up the deficit from the Ball.
Mary, I heard about your father. He is such a heavy drinker, I am not surprised. But you would have thought this might be a wake-up call for him. Imagine walking home from Frank's house when it was way below zero without gloves on. No wonder he froze the ends of his fingers off. (pictured above)
I feel sorry for your mother. She is such a lovely patient woman. To have to put up with him when he is drunk is more than any woman should have to do. I am pleased that her mother went to live with her now. Thank goodness my Hyacinth is not a heavy drinker, and I hope you are not either, JA.
I expect you are pleased to have your Moma next door, Mary. I can remember visiting her when they lived here and her coffee cake the was as light as a feather. She made rye bread with skimmer seeds. Oh boy! It sure was good.
Has she managed to get her flower garden growing there? I am a flower lover and I grow all kinds of flowers. I still have some of the cuttings from her violet flowers . I plant them every year in my garden and raise more seeds. I expect you were pleased to have her nearby when your baby was born. Try to space your children out if you can. I had big gaps between mine, and it made my life so much easier. I see friends here with a new baby every year, and I wonder how they can manage.
I was pleased to hear that Andrew and Polly managed to sell their farm here and get a homestead near you there too. He is the best of the bunch of those Suchla boys. They are such rough necks. I don't mean to offend you, Mary, but I believe in saying things as I find them, and some of your brothers are just short of hoodlums in my eyes.
Kate wrote and told me that Peter's homestead there is now officially paid off. And I understand that Lorenz Bautch finished off his earlier this year too. It is such a relief isn't it. Not that Hyacinth needed to do it, as he paid in cash, but Pa did, so I can remember from that.
Our school is now quite a building with a new addition. The equivalent of ten grades had been taught for some years, but Charles F. Peterson, the principal, wants to set up a regular course of study covering the required work of a ten grade school.
You, of course, will remember George A Markham. Well. he took over the local newspaper from W. P. Faulds, who had charge of it for the last eight years or so. He merged the News with the Independence News-Wave, and he has done something rather revolutionary with it. He purchased a linotype machine which enables him to handle most of the composition for the paper by machine. He also installed a two-revolution Cottrell press for the printing of the paper and a kerosene-burning engine to supply power for it. We are told that we are the first weekly newspaper in the state to have this modern method.
Jacob and Mary Kulig have had another daughter, and this one is called Agatha.
Much love
Susanna, Hyacinth, John, Paul, Albert and Gertrude
Independence, Wisconsin
March 10th, 1893
Kensel, Stutsman, North Dakota
Dear Marie,
How nice to hear from you. No, we haven't met, but of course, I know your husband and all of his family. And what a lot of information you packed into your letter. I am glad you are pleased with your little town of Kensel. And how wonderful that you have your own church, and don't need to make that awful 20 mile journey to Fried to get to church.
Now that the railway is finished and you have a depot, elevator and coal sheds, your town should really have its businesses pick up. We always knew Joseph was a good worker, but I'm sure he will make quite a difference to the future of that little town. If you already have a grocery store, a lumber yard a hotel, and a school, you are well on your way to being a proper town.
I know that you are a Catholic, so you will be interested to know that we hope to visit Chicago later this year, to see the Pope's emissary, Monsignor Satolli. Pope Leo plans to participate in the Chicago Exposition held to commemorate the fourth centenary of the discovery of America by the loan of valuable relics.
Best wishes from Susanna Kulig
Independence, Wisconsin
September 30, 1894
Pingree, Stutsman, ND.
Dear Mary and JA,
Just a quick note because we are very busy.
Congratulations on the birth of your daughter. And how nice that you named her Rosalia after your mother. How is your mother? I seldom hear from her these days. I enclose a little dress that I hope will suit your baby.
Jacob and Mary Kulig have a new son, called William. They are making up for starting late in having children. I will enclose a picture of them.
Love from
Cousin Susannah and Hyacinth and the children
Independence, Wisconsin
December 10th, 1895
Fried, Stutsman, North Dakota
Dear Kate,
We hope you have a very Merry Christmas and Happy New Year. I look forward to this time for sending out my yearly update on how things are going around here.
My baby, Gertrude, started school this year. I had a little weep when she left, but she was very ready for her big day. And our eldest will graduate this year from Madison. But he wants to be a lawyer so he has to do something called Articles, and it will be several years before he can set up his own law office.
In May, the voters approved a bond issue for a more adequate water system. J. F. Zilla drilled an artesian well about 500 feet deep for the sum of $722.00. Albert J. Bautch gave the village a lease and easement agreement for a reservoir site on the high hill west of the village. But last week, the artesian well began producing sand and as the problem continued, the village board authorized the digging of a large, shallow well just north of the present site of the fire station. Pond water flowed into the well and from thence it was pumped by steam power into the reservoir. But the water was not purified in any way, and therefore it was not fit for human consumption.
The reservoir is situated on what is known as the Bautch Hill west of the village. It is one hundred and seventy-four feet higher than the business district of the town. It is 14 feet deep and 40 feet in diameter and holds 66 thousand gallons. The pipeline is 3 thousand feet in length 
Best wishes,
Susanna and Hyacinth
Independence, Wisconsin
December 20, 1896
Pingree, Stutsman, North Dakota
Dear Mary and JA
A very Merry Christmas to you, and I hear that Santa gave you a new son, as an early present in November. You named him Andrew, presumably after your brother, Mary.
We had a wedding to go to a few weeks ago. It was my cousin Michael Filla who married Frances Prokop. What a sad occasion, as we were all remembering how his parents died not so very long ago.
I often hear from Marie Nogosek. She is like me - a born letter writer. She told me that they now have a proper school, which is just east of their property. The local children had been having their schoolroom in the Nogosek's house for the last year or so - and they still do have the teacher boarding with them.
She says that Joseph was determined that the lack of schooling that had happened to him as a child in Independence, Wisconsin, would not happen to his own children, the oldest of which, Mary, is already nine. She said that to provide enough students to justify the new school, one or more of his children began school already when only five.
She is producing children at a copious rate, just like you Mary. She had George in 93, and then Louis in 95 and she told me she is expecting again, due early in the New Year. I think I have told you before my opinion on having your children so close together. There are ways and means to make sure the gap is longer, you know.
We now have a telephone service in town. The Arcadia Telephone company which started up last year, has a franchise by the Independence Village Board from July this year to run its lines into the village.
Our son Paul has finished with school and wishes to be a farmer. We will give him a few years to find his feet, with Hyacinth to help him, and then we will sell him the farm, and retire.
Love
Cousin Susanna
Independence, Wisconsin
August 5, 1897
Pingree, Stutsman, North Dakota
Dear Mary and JA,
I heard from your mother, Mary, that two of your brothers got married this year. I wish their wives luck. Julia Sobata is such a sweet girl. We knew her parents way back when we lived in Poppelau and they have been friends here ever since. They arrived here the same year we did. And her sister Mary is going to live with Julia and Frank. I wonder if that's wise. Still, it is none of my business how they choose to start their married life.
And Susan Szmieja. I wonder how she and Thomas will get along. They both have fiery personalities. She has such a lot of get up and go. Well, they must know what they are getting as those men have showed what they were like all the time they lived here. So good luck to the both sets.
How is your sister Julia getting on? She must be past school age by now. Does she have a job?
I know that you said that someday you would like to bring your sister, Anna, over to the States, JA. As you know I have been corresponding with Anna over the years, and I really do think she needs to get out of Prussia now. We can sponsor her if you don't feel able to afford it. I know she is a woman of 30, but unmarried, and just being used as a slave by the people she lives with. I will wait to here from you, but don't leave it too long.
Even if you sponsor her, I would like her to come here for awhile when she first arrives. This place is much more civilized than it sounds like where you live, and she can get a gentle conditioning here. But if she does go to you, don't make her your slave - just helping care for your brood. She needs to get married and have a life of her own. Be on the lookout, Mary, for a suitable man for her.
Love from Susanna