Trip to Say Goodbye - 1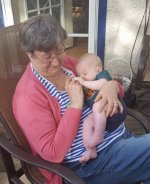 Sun, 03 Jul 2016
Two weeks ago, I was packing my bag, and the thought that predominated my mind was, "In two weeks, I will be home again." It was a very long two weeks, covering vast distances, meeting with over 50 relatives. I have a bit of tan to show I went and encountered real sun. I have several hundred photographs – none taken by me – documenting the trip. I bought some new bargain clothes, and little items of some interest for my grandkids. And I said goodbye to my sister, knowing that she at least recognised the fact that I had been there.
I hate long distance travelling. I think I probably have mentioned that a few hundred times already. I am one of those people who anticipate the worst. Two years ago when I made a similar trip, my first flight was cancelled, ensuring I missed my second flight, and the whole thing was delayed by 6 hours, making confusion for all my contacts. I struggled to find a working real phone in Philadelphia airport.
So I was expecting the same or worse this time.
But I got on my planned flight with United in Manchester at 9.30 a.m. , and so far nothing had gone wrong. Then the pilot came on the intercom. "Sorry folks, but although we thought we had an early slot on the takeoff, we have just been told that the Air Force are doing maneuvers in Scotland this morning and so all flights over the Atlantic are in a hold pattern until we are released. We have asked for an early time, but we have no control over this. I think we might be here on the ground
for an hour or so yet."
I had a 1 ½ hour slot for a changeover to my next flight from Newark to Minneapolis – which meant, that with going through customs in the States, if this flight was delayed by that much, there was no way I could make my connecting flight. But this time, I had my ordinary phone with me, so as we were still on the ground, I could make a call to my daughter, who luckily was home, and she managed to text my niece (not the same one) who was meeting me in Minneapolis. And being the pessimist that I am, I had expected something like this to happen, and had only hand luggage on board with me, so didn't have the complicating factor of getting my luggage in Newark and going through customs and then putting it back into the system.
We did get into the air, just under an hour late, and by flying very fast and through some very rough bits of sky, we got to our destination only half an hour late. I ran down every bit of airport that I could, and felt extremely lucky that I managed to get to my next departure gate with at least ten minutes to spare. But why were there no efforts being made to load the plane? I very unintelligible clerk came on the intercom. "Sorry folks, but the crew are late coming in from Atlanta, and they are getting into A (and we were in F) so it will take awhile for them to get here." Half an hour or so later, we saw the rather harassed looking crew arrive and get on the plane, and we were called in due course, and took off shortly after that. All that running for nothing. But at least this was my correct connecting
flight and my niece knew the flight number, so if she was smart she would check to see if the flight was down as being late.
This flight was also bumpy and completely lacking in any ammenities – as are all US flights that I have been on lately. No free food, and only soft drinks offered once. No in flight entertaining without paying extra. But I had a good book, and could finally relax, knowing that the worst had not yet happened.
My niece Cathy is about 38, and it was her twin, Carla, who had met me two years ago. But now
Cathy was to be my host for the first night on American soil, but first we were going to visit Carla and her partner Blaire, and their six month old twins – Aurora (pictured with me above)  and Sorena. These twins have two mothers, and their father was a sperm donor. Blaire is the biological mother, and has the job of breastfeeding them both and also working full time. So she pumps every four hours night and day despite the fact that they sleep through the night – both sides working at
once, and they are both bottle fed at their 9-5 nursery. Such cute babies and so well behaved. In the three hours or so that we were there, they didn't cry once, and were full of smiles and happy for me
to hold them and coo over them, like I do with all new babies. Carla was very much a mother too, and although they don't have her genes, one of them does look very much like her mother did at that age. I know all little babies look a bit alike, but this seemed to me more than just a passing likeness.
Their house was a complete mess – with their living room so full of hammocks and swings and bouncers and clothes that there was no place to sit down. So we went onto the deck and luckily it was pleasantly  hot and not too mosquitoey, and had pizza – probably their staple food for the entire six months since the births.
Then Cathy drove to a little town south of Saint Paul where she and her husband Brian live. Brian works nights, so he wasn't there when we arrived, but I was greeted by her two huge dogs, who were either very friendly or very determined that I wasn't going to be allowed into their house. One who when on his hind legs was nearly as tall as me, put his open mouth over my mouth and nose, dripping saliva, and without a bit of help from Cathy, I might have had a less enjoyable stay. But she
calmed them down, and they left me alone after that. I do like dogs, and did my usual patting and petting once they had decided I wasn't a burglar.
I hadn't slept the night before I left, and it was now very late in English time, so when I finally got into my bed for the night, I slept a very long time.