Trip to Say Goodbye - 3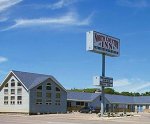 Tue, 05 Jul 2016
Knowing that we had only 400 miles or so to cover, Larry wasn't in any big hurry to start in the morning, but we did get going about 7.30. The highway is fast and straight and flat, so you can easily do the allowed speed – which was 70 mph in Minnesota, but increased to 75 in North Dakota,
and later on in the trip, to 80 in Montana. Cathy's car was complete with power steering and brakes, cruise control, and all the latest devices for indicating best routes to avoid road works, etc.
We agreed that between them they would pay for the gas, and I would pay for everybody's meals, and we would each pay for our own motel room. Our first stop was a place used by all of us over the years and well known for providing wonderful pies, although we didn't indulge on this occasion. The town is called Tower City, in North Dakota, and Larry had a BLT, Cathy a cheeseburger, and I had a hamburger, with the total bill $32.81. I was amazed that at the bottom of the charge slip there were suggested levels of tipping, just in case anyone couldn't work it out for themselves. They started at 15% and went up to 30. We had good fast service and the food was wonderful, so I left a bit over 15% tip of $5. Each time we got gas, which they did when the tank was still 1/4 full, cost about $20. I think we filled up about every 250 miles.
The reason for this next stop was to visit with my step-mother, whom I have often written about. She isn't the most popular of relatives, and neither Larry nor Cathy was keen to spend much time with her. So we agreed a plan that they would drop me off, and then I could visit on my own for three
hours or so, and they would return and pick us all up for a meal. In the meantime, Larry and Cathy would find us a motel. We had actually already found it and moved in, but it gave them a legitimate excuse to not visit with her for too long, and also a chance for them to have a few much needed beers to get them happier for the later encounter.
The reason for Grace's unpopularity was her trying to make herself the matriarch of the family after my mother died, and she started going out with my father, only a few months after my mother's death. My sister, (Larry's wife) Judy really resented this, and particularly when Grace took it upon herself to comment on Judy's family's lifestyle and the way the children were being raised. So for awhile her family didn't even speak to Grace. I was living in New Zealand when all this drama was going on, so pretty much missed out on it, and I have corresponded regularly with Grace, and visited her on many occasions. But I also don't like her telling people she is my mother, or insisting on our
relationship being more than what I consider it, friendship. On this occasion, she was hurt by our flying visit to see her, in order to have an extended visit with my other sister, Kathleen.
Grace is 98 and in pretty good health other than for being nearly blind. She lives in her own room with bathroom attached in a very nice nursing home, which is paid for by her pension and Medicare. She's been there over two years now, and has adjusted and made friends. It was a struggle for me to find three hour's worth of conversation, but somehow we managed. I had also invited my father's cousin and her husband to eat out with us, so that took a bit of time, arranging it, and then informing Cathy etc. of the place and time of the meal. Luckily the cousin had a more normal shaped car, and Grace was able to get into it without too much effort. She would have had a real problem with Cathy's high sided car.
Grace chose the restaurant, Dakota Farm, on the main street, and as it happened next door to our motel. The place was virtually empty, so you would have thought we would have had good service, but they were slow and not all that friendly. Three of us had taco salad, and we all left about half. The food was mediocre at the best. And of course, no alcohol was served. Grace doesn't like people to drink, although she isn't tee-total, but she thinks we all drink far too much, so she was certainly not going to tempt us by suggesting we go to a restaurant which served alcohol. Larry and Cathy were already happy, so didn't mind, and I knew Larry would have a beer waiting for me after the meal. My cousin's husband insisted on paying, and I was very happy for him to do so. They drove Grace home, and Larry and I went in with her to make sure she made it back to her room okay. We said our goodbyes, and Larry left. I noticed that Grace was crying, so I gave her an extra hug and told her not to, and that I would be calling her from Portland and again from England when I got back. Chances are this is a last goodbye for her too, but who knows – she might outlive me.
Our motel was called the North Country Inn,(pictured above) managed by an East Indian couple who had spent many years in Leicester, so were pleased to see my English address. We were amazed when they took our credit cards using an old fashioned machine where you had to put the card down on a large flat surface, and then swipe it back and forth. I think they ruined the first couple attempts. I used to use a machine like that in my work about 25 years ago. My room cost $71.66 with tax. Our rooms were adequate, and we asked to be allowed our token breakfast at 6 in the morning,  of coffee, cereal, and toast or a Danish pastry. Our plan was to drive over 600 miles the next day, so we retired early and set our alarms for 5.