T'was the Week Before Christmas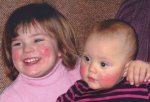 Sat, 20 Dec 2014
T'was the night before Christmas
Oh no that's not right.
T'was the week before Christmas
Not a reindeer in sight.
When Mummy and me
Set out in the car
To visit my Granje
It's not very far.
I was so excited
'Cuz Granje and me
Have fun playing ball games
And making the tea.
But just then I started
To cough and much more
To bring up my breakfast
All over the car.
It got in my hair
And it got in my shoes.
My mummy couldn't stop then
The traffic's bad news.
Finally she managed
To pull in and stop.
She cleaned up the worst bit
Gave me a new top.
But when we arrived at
My Granje's big house
I felt and I smelt like
A rat or a mouse.
And then when I spied her
My world fell apart.
In the lap I should sit in
And looking most smart
Was a baby, and Grandje
Was looking at her
Like she looks at me most times.
Then the baby did stir
"Here's Susannah" they all said
And expected a smile.
I hid my face from them
And waited awhile
Before I would let them
Appreciate me.
I felt I'd been ousted
From my territ'ry
Then luncheon was served
 I was so pleased to see
That they had remembered
Roast carrots for me.
The meal nearly over
The baby had fed
I climbed to the floor
And looked at her head.
She was smaller and rounder
And seemed like a dork
She couldn't even eat
With a spoon and a fork.
But later my auntie said
"Natasha let's see
If you and Susannah
Friends can now be."
She made me sit next her
Her small hands in mine
And play row the boat
It all seemed just fine.
Then suddenly I found
She was sitting on me.
I held her most firmly
She chuckled with glee.
This cousin I had hated
For taking my place
Now showed me her good side
She smiled in my face.
Then soon it was time
To pack up and go
But Grandje looked sad now
She does love me so.
"Be back soon," I told her
"And then we can play
But maybe the next time
Keep the other babe away."
Not that it matters
Now I know that she
Is really not up to
The same things as me.
She can't even catch
And she can't even throw.
And not any teeth yet
I looked so I know.
Mummy looked tired
As we waved our goodbyes
We won't see them now
'Til after Santa's surprise.
And I heard mum say
As we drove out of sight
Merry Christmas to All
And to all a good night.