Yachta Mache - 8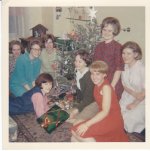 Wed, 27 Jul 2016
We interns were expected to use our initiative to decorate the hospital over the Christmas period. So I made a poster, with the caption, "Give yourself the gift of good nutrition" and put pictures of good foods in stockings hanging from a fireplace. I was just assembling this in the front entry of the hospital when John Morgan happened along. I hadn't seen him much, or spoken to him since his engagement was announced. But my anger had played itself out, and I didn't want to be mean any more.
I knew his wedding was scheduled for the following Saturday, so I wished him the best of luck, and said it like I meant it. He looked so relieved that I was being friendly, and we had a few minutes chat.
But on Saturday, the wedding day, I decided to take the ferry on my own to Manhatten. I expect I was doing Christmas shopping. But I never got to the shops. While still on the ferry, I slipped and fell badly, and hurt my leg so that I could hardly walk. So I took the next ferry back home, and hobbled to the emergency room. They xrayed my leg, found nothing broken but said it was badly sprained,  bandaged it and gave me crutches to use for walking for the next week. I don't know whether my fall would have happened if I hadn't been thinking about the wedding, but I certainly only thought about my own problems for the next week, and didn't worry about John at all.
Another part of our decorating was to do with the Cook's dining room. We asked them to save us all the wishbones from the chickens and turkeys that they used for the last few weeks or so before Christmas. We cleaned and dried these, and made them into antlers for the little reindeer we
fashioned for table decorations and they also worked as runners for the sleighs.
Christmas itself was a pleasant time. We who hadn't been allowed to have a vacation and go
home, got together in our living room and exchanged presents and had wine and cake. I'm the one in the white blouse more or less in the middle of the picture.
My week off started with me putting on my proper uniform for the first time, as you can't claim Military Standby status at the airport unless you can prove you belong. I felt rather self conscious but also knew I looked very professional. All went well, and the flight was half price, as advertised. I think I was probably bumped up to first class too. My parents were proud of me, and I had a very refreshing week at home. But I couldn't wait to get back to New York, and my new life.