The Dodgy Invitation.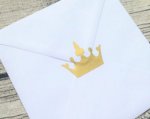 Tue, 21 Mar 2017
Bob Jenkins retired early at just fifty five. He and his wife Linda were financially secure. His thirty five years with the Post Office had earned him a nice pension and a generous lump sum. Now, he spent his days doing voluntary work for his local British Legion Club. He cleaned the toilets every morning, served behind the bar at lunchtimes and every year sold more Poppies than anyone else in the county.
His reward for this tireless service, and his many years in the Territorial Army, was an invitation for him and Linda to attend a posh dinner at Guildhall in London. These invitations were like gold dust and only sent out to people who were connected to the Armed Forces in some way. To receive one was a great honour. They were surrounded in secrecy. Mainly because they were hosted by a member of the Royal family. This year Princess Anne would be in attendance.
Bob kept the invitation safe in the top drawer of his bedside cabinet. Every few days he would take it out and look proudly at his name written in gold leaf. Today he noticed something. It seemed to be coming apart. He carefully picked at one corner and realised that his invitation had another one stuck to the back of it. After a few minutes of gentle manipulation, they came unstuck. The extra invitation was in the name of Mr and Mrs Richard Denning.
That's when Bob rang me.
"Hi Jim. What you and Doreen doing tomorrow night?"
I smiled. I thought he was going to invite us to another one of his boozy barbeques.
"Nothing mate, why what you thinking of?"
Bob went on to explain in some detail about the extra invitation. I wasn't keen. It seemed risky.
"But what about Richard Denning? Won't he be wondering where his invitation is?"
Bob laughed.
"No you crumpet. These invitations are sent out in secret. You don't know you've been invited until the invitation turns up. Richard Denning won't have a clue about the dinner. He'll be none the wiser. Besides, it's tomorrow night. It's too late for me to send the invitation back and too late for it to find its way to Richard Denning. If you don't come they'll just be two spare seats. It's black tie, four course meal with wine, a live band with a free bar. Princess Anne is going to be there!"
I thought about it for a few seconds, and with a bit more persuasion from Bob, decided to take the chance.
"Okay. We'll come. "
The following evening the four of us shared a cab and went off to Guildhall. I was still nervous about the whole thing and desperate for Bob to reassure me that everything would be okay.
"Look Bob, you sure we're doing the right thing?"
Bob did his usual...he laughed.
"It'll be fine. There's a champagne reception when we arrive. Then we sit down to eat. We're all on the same table so we'll keep close. If anyone asks you about yourself just be vague. Say you help out at the local British Legion and do a lot of charity work, just don't get too bogged down in detail.  After the meal they'll be some speeches. Princess Anne will probably thank everyone for their loyal service to the armed forces. Then the band strikes up, we get up and dance and have free drinks all night. Easy!"
I still had my doubts.
"But what if someone knows Richard Denning?"
Bob put his hand on my shoulder.
"Look mate there are hundreds of thousands of people connected with the Armed Forces. Soldiers past and present. People are chosen from all sections of the service.  Take me for example. There are more than 2500 British Legion branches in the UK. I don't know anyone else that's been invited so I'll know no one. It'll be the same for Richard Denning.  He'll just be someone that was chosen at random. Trust me. It'll be fine."
We arrived and walked into a grand banqueting hall. A man in uniform welcomed us and took our invitations. He looked at them closely and then handed them to another man who nodded and walked away. The man in uniform shook our hands.
"A very warm welcome Mr Denning and Mr Jenkins. You are both on table twelve. Please help yourself to a glass of Champagne and enjoy the rest of your evening. "
Bob winked at me as we walked away.
"See... told you it would be okay."
We all took a glass of champagne and for the first time I began to relax.
The place began to fill up. Women were dressed in ball gowns and the men were either dressed in Dinner Suits with bow tie of their full military uniform. I'd never seen so many medals in all my life.
Princess Anne took her seat at the top table along with other impressive looking dignitaries.
The four course meal was exquisite. Thankfully the other people on our table seemed a bit stuffy and didn't really mingle. I was about to take a mouth full of coffee when I heard a bell ring and the lights dimmed. The man in uniform who welcomed us when we arrived was standing up. The room fell quiet.
"Good evening Ladies and Gentleman. I trust you all enjoyed your meal."
There was a nodding of heads and various noises of approval from the room. The man continued with his speech. He thanked everyone for their service to the armed forces and how we'd all deserved this special evening. He went on for about ten minutes. When he finished we all gave a round of applause.
You could hear a pin drop as Princess Anne got up from her chair and began to speak.
"Ten years ago this week a special mission was taking place in South Afghanistan. A small group of specially trained men were assigned to destroy a bomb making factory in Helmand. The operation was compromised and these brave men found themselves in an extremely difficult situation. Sadly only one of this elite group survived, but he was captured and spent three days in the hands of the enemy. In the dead of night he managed to escape and somehow, miraculously after seven days in the desert he found his way back to camp. Because of the secrecy and delicate nature of this operation this brave soldier was never given the full recognition that he deserved. Well tonight we intend to change that situation. I am delighted to award the highest medal of gallantry, The Victoria Cross to...Captain Richard Denning!"
I felt the spotlight on me. I was aware of people standing up around me and the sound of applause. All I could think of was..."Oh FUCK."