Drinks and Nibbles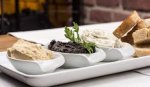 Mon, 21 Aug 2017
"It's nearly eight o'clock love. They'll be here in a minute!"
John shouted up the stairs to his wife Sarah. She'd been getting ready for over an hour. He heard her reply as he walked back into the kitchen. It was abrupt with a hint of sarcasm.
"Well ONE of us has to make an effort."
He ignored it, opened up a bottle of red wine and poured himself a large glass. He downed it in one. He wasn't looking forward to the evening. Two strangers he didn't know coming over for drinks and nibbles. Sarah's idea of course, she thought it would be a good idea to get to know the new neighbours at number forty seven.  They'd moved in a week ago and, according to Sarah, looked to be "up market" people, not like the "riff raff" that seemed to be all around them. He poured himself another glass of Chateauneuf Du Pape and let out a long sigh.
He heard a cough behind him. Obviously Sarah trying to get his attention. He turned to face her. His first thought was to laugh, but years of training had taught him that was a bad idea. Instead he smiled and nodded his head in approval.
She was wearing the green ball gown that he'd bought her for the Masonic Evening last year.
"Well? Don't just stand there with that silly grin of yours. How do I look?"
He continued to smile. He looked her up and down, trying hard not to stare at the green patent four inch heels, the yards of taffeta and lace, the gold charm bracelet, the pearl neck choker and the green sapphire butterfly clip in her hair. She looked like something out of a nineteen seventies horror movie.
"Lovely. Simply lovely."
He moved forward to give her a peck on the cheek.
"Don't touch me. I've spent ages on this make up. I don't want anything smudged."
He backed away. His eyes were beginning to stream from the excessive amount of perfume that was offending his nostrils.
"Glass of wine, love?"
She dismissed him as though he'd said something stupid.
"Don't be ridiculous. I've just put my lippy on!"
He poured himself another and noticed the disapproving look on her face.
"Don't you go getting drunk John Reynolds. I'm warning you. Not tonight. Not in front of our new neighbours. Old Mrs Grant at number thirty six says they've got a Mercedes and that she's seen HIM driving it dressed in a suit and tie. My guess is that he's something big in the City. Maybe the CEO of a multinational company or something. And, if he's a Mister Big then I expect his wife to be young and glamorous."
Again he sighed.
"So you haven't actually met them yet?"
She was fiddling with one of the twenty six charms on her bracelet that had got caught on a piece of lace on her sleeve.
"No need. Mrs Grant said they were nice people and that's good enough for me. I just popped a card through their door saying John and Sarah at number fifty two would be delighted to invite you for drinks and nibbles at eight o'clock on Saturday night. Now then, have you got the drinks organised?"
He felt like screaming but just answered in his usual manner.
"Yes dear. White wine in the fridge, red wine on the table. We've got Gin, Vodka, Scotch, Rum, and just about every mixer under the sun."
She turned at looked at him as though he'd just committed a major sin.
"Baileys? Tell me you haven't forgotten the Baileys? Up market people like Baileys John. Surely even you know that?"
The thought of grabbing her firmly by the neck quickly passed. Once again he smiled.
"Of course not dear. We've got plenty of Baileys."
She opened up the fridge door and took out a number of plates and bowls.
"Good. I've got Guacamole, Hummus, Courgette Yogurt and Spicy Bean dips. Various crackers, Spinach and Feta Mini Rolls, Bruscheta, and a bowl of Toasted Chick peas. Oh and I've got stuffed dates, sweet and savoury. That should show them the kind of people that we are."
They were interrupted by the sound of the doorbell. Claire De Lune in D Major.
Sarah took control.
"Right, you go into the front room and act naturally. I'll welcome them in."
John did as he was told and scurried off into the front room. He waited. He heard voices from the hallway. The door opened. 
A short man with bright ginger hair appeared first. He was wearing a blue T-Shirt that looked like most of his dinner had just been scraped off it, grey jogging bottoms and a pair of black Crocs, no socks. The woman behind him wasn't dressed quite as smart. Same T-Shirt but with flip flops and leggings.
The man thrust out his hand for John to shake. A vice like grip almost broke his knuckles.
"We have got the right night haven't we mate? I was just saying to your lovely wife that it looks like she's just come from a wedding. Should have given me a shout. I do a bit of chauffeuring for the local mini cab company from time to time. Well, you can't live just on dole money these days. I'd have given you lift at a reasonable rate. Now where's the beers? We're both gasping!"
John smiled.
"That's very kind of you. Now, you two take a seat and make yourself comfortable. I'll get the drinks."
He walked passed Sarah who was just standing there mouth open and a glazed look on her face. He whispered to her.
"I'll pop down the off licence and get some beer, crisps and peanuts. When I get back you can go upstairs and change."