Ginny. ( Part 1)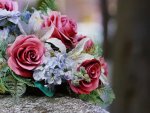 Thu, 27 Apr 2017
My mother and father were married for almost sixty years. He's been gone now since 2006 and Mum in 2010. Here's the strange part. Though they were together in life for all that time, in death they are miles apart. Let me explain.
Dad wanted to be buried with his family. By his family I mean his mum and dad and his brother, all in the same plot. Mum on the other hand wanted to be cremated. She couldn't bear the thought of her body rotting away in the ground. The Cemetery and the Crematorium are fifteen miles apart.
I'm not one for visiting graves. My thoughts are straightforward. When you're gone, you're gone.  No point in standing and looking at a piece of marble. But this day was different.
The MOT on my car was due and I took it to a local garage to get it done. The mechanic said I could wait but he had a couple of cars to do before mine, so he'd be an hour or so.  I decided to have a "wander". The Cemetery was only a few minutes walk away and I thought I'd go and see Dads grave. I hadn't been there since the day we put him in the ground.
It took me about twenty minutes before I found him. As I approached the family plot I noticed an old lady laying flowers beside the headstone. She was smartly dressed for an old girl. I was guessing she was around eighty. Silver hair, bobbed and well cut, not the blue rinse brigade.  She had on a long navy blue coat with a fur collar. I was guessing that back in the day she was a real stunner. I had to ask the question.
"Excuse me, did you know any of my family?"
I startled her. She took two steps back. I felt guilty so I apologised.
"Sorry. I didn't mean to scare you. It's just that I saw you laying flowers."
She stood back and looked me up and down.
"Tommy?"
I smiled at her. She knew my name. Obviously she was some kind of distant Aunt. Dad was one of six and Nan and granddad had more brothers and sisters between them than the Waltons. I don't have enough fingers and toes to count how many cousins I have.  I nodded and smiled.
"Yeh. You one of dad's cousins from the other side?"
"The other side" was an expression all the family used when referring to someone from the other side of the Thames. Dad's family were originally from Bermondsey which is South of the Thames. When he met Mum they moved to East London, which is North of the Thames, where they lived for the rest of their lives. That's where I was born. So we were a very large family split by a stretch of water. The lady grinned.
"I haven't heard that expression for a very long time. I was just a friend of your Dads."
The way she said the word "friend" had a slight sarcasm to it. Just as my brain began to absorb the information she continued.
"He spoke of you a lot. He was very proud of you."
That stunned me. Dad never showed me any real affection when he was alive. He wasn't that sort of man. He was more of the strong, silent type. Yeh, I knew he loved me but the words were never said. I stepped forward and shook her hand.
"Nice to meet you. Well, you have the advantage. You know my name. You are?"
For some reason she said the words slowly.
"Virginia Nolan. But everyone knows me as Ginny."
I knew the name. When I was about eight or nine, I sat at the top of the stairs and listened to Mum and Dad having one of their "ding dongs". I heard mum shout "I bet you've been with that fucking slut Ginny Nolan again."
Now things fell into place. This old lady was Dads girlfriend.
I wasn't sure how I should react. Should I be angry? To be honest I've not been too great in the faithful marriage department myself, so I politely smiled.
"Nice to meet you Ginny."
We both stood there in silence for a few minutes just staring at the headstone. Neither of us really sure what to say next. I decided to break the silence.
"Do you live local Ginny?"
"East Ham. Just a short Bus ride away. Only takes about half an hour."
"How often do you visit?"
"Once a month. Usually on a Friday."
I felt a bit guilty. He was my Dad, my flesh and blood and this was the only time I'd been here in eleven years. This old girl made the journey every four weeks. They'd obviously been VERY close. I wanted to know more but didn't want to make it too obvious.
"Did you work with Dad?"
She nodded and looked at me. It was then that I noticed her eyes. They were a bright vibrant green and in the mid afternoon sunlight they seemed to sparkle and shine. I'd never seen eyes that colour before.
"Yes, we worked together at Ludlows Haulage. I used to do all the wages for the Drivers. I was still there when your dad retired in 1998. The whole company clubbed together and bought him a gold watch."
I pulled up the sleeve of my shirt and showed it to her.
"I know. I wear it every day."
For a brief moment I thought she was going to cry. But within a few seconds she composed herself.
"That's nice. He would have liked the fact that you're wearing it. He always referred to you as My Tommy."
Now it was my turn to have a lump in my throat. I pulled down the sleeve of my shirt and took a big breath.
"Look Ginny, there's a pub across the road. Fancy a tea? Or coffee?"
Those big green eyes once again stared at me.
"Sod that Tommy. I'd love a gin and tonic."