Visiting Our Own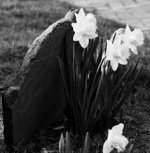 Tue, 23 May 2017
1 likes
I visited Holy Cross Cemetery in Lackawanna, on Monday. It was 55 degrees out, with a 20-mph wind, cloudy, cold and dreary. For a Floridian, like me, that is colder than a well digger's butt.
Brother Eddie's grave was well tended, with a trim of small stones encircling, to retard encroachment of grass. I said a prayer there and told him of his family's progress. I asked him to put in a word for Marie, if he had figured out the inside angles of who was who the great beyond, a task he had accomplished in most venues here on earth.
Mom's grave, Maureen's, Danny/Dad's plots needed a little work. Grass and soil ever encroach and threaten to cover the stones. And the friggin' Canada Geese had left their droppings everywhere, the inconsiderate avian rascals.
I related what family news I could remember, for all assembled, and asked for their efforts on Marie's behalf. I am always reminded, at times like this, of Edgar Lee Master's "Spoon River Anthology." Folks talking idly in the hereafter about their life and times and speculating about the time and events affecting those that they had left behind. I wonder what Dad, life-long Republican, would make of the current political happenings?
Lastly, I stopped by the grand, heart-shaped, black, marble edifice that is the final resting place of one John Francis Martin. The memory of Jackie can still make you smile, even from the hereafter. I told him of the Mass at Holy Family that Kathy had celebrated to commemorate twenty years of his passing. I can't even imagine that so many years have passed by since that tragic night. Still, I left with a smile thinking of Jackie's antics.
And as usual, I turned my head into the wind and said a prayer for Brothers Patrick, Kevin and James, who lay elsewhere. They will have to get their family news from those I have already briefed.
The stones surrounding me here are a comfort. They are the pleasant memory of many hundreds, in our small community, who had lived, grown up around me and passed on since. With each engraved name, I see a smiling face, a memory and an extended and growing family left behind. Their names roll off my tongue like a rota of the faithful, a chant I have used in many times before. "O'Malley. O'Reilly, O'Toole, Deegan Dugan and Dunne." They are a litany of the Gaels who had crossed the wide ocean and found a home here with us, on the far shores of Lake Erie. Bless them every one.
                                                                    -30-
                                                           (437 words)
                                                    Joseph Xavier Martin