Marta and the Bug (1-2)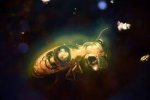 Thu, 01 Apr 2021
1.
Sitting in the living room, waiting for her father to arrive, Marta saw a bug fly in through the half open window and land on the sill. The bug was black with red antenna and a splash of bright yellow on its shell. She watched as it preened its mouth with its front legs and then opened its wings, absorbing the energy of the sun. Marta smiled: with its wings unfurled, the bug's single yellow splash divided, giving the impression of small angry eyes.
Her mother shouted from the kitchen: 'Did you remember
to pack your bathing suit ?'
'Yes, mom' Marta sighed and opened the rucksack lying by her feet to double check. Now the warm weather had arrived Marta's father had suggested a day trip to the seaside. But Marta knew their plans might change.
It wasn't just her father she was going to visit. Now, there was a new
situation with others to take into consideration – children whose preferences
and ideas didn't always chime with hers.
Marta looked at her watch; her father was ten minutes late. Outside the trees that surrounded the driveway were thick with fresh new leaves. Flowers were in bloom and the air was muggy and warm. She moved closer to the open window and wondered if the bug lived in a nest hidden somewhere in the
garden. It was crawling up the wall now – slow, tiny steps interrupted by short periods of rest so the antenna could do their work, sniffing out areas of
danger.
She was about to go into the kitchen and collect an empty jam jar when her father's car turned into the driveway. 'He's here' her mother shouted. Marta slid from the chair, grabbed her rucksack, made her way along the hall, and shouted 'See you on Sunday' before slamming the front door.
2. 
It was a short drive to the house where Marta's father lived with his new partner. The house was bigger and newer than the one Marta and her mom lived in. It had a fancy iron gate that opened by remote control. When her dad brought the car to a halt before the gate he always let Marta push the button. As the gate opened they both pretended to be magicians, wriggling
their outstretched fingers, casting a funny, unique spell.
Apart from the fancy iron gate Marta didn't care much for big new house. Not only was it too modern but it held an oppressive air of cleanliness and order. What's more, the wooden floors and open plan kitchen reminded her of school. It was as if the people who built the house had forgotten to add walls. And she was always worried that she was doing something wrong. At home things seemed freer, more carefree.
Gillian, her dad's partner, was speaking on her mobile phone when they entered. She didn't seem very happy and her voice was rather loud. Marta's dad put a finger to his lips – a reminder that Marta must remain quiet when Gillian was speaking; it was a reminder, too, that she was a guest in Gillian's house.
Marta went upstairs – the slippy, varnished stairs – to put her rucksack in the small box room where she slept. As she made her way along the corridor she stopped by the twins' room. The door was ajar; she looked in through the gap. The two girls were sitting on the floor, crayoning a picture book. They were still wearing their school uniforms and were giggling. A thought came into Marta's head: she had never once seen the twins apart.
Suddenly the door was pulled, rather aggressively, open, causing Marta to catch her breath. James, the twins' older brother, stood wearing his angry face. 'What do you want ?' he said. 'Nothing' said Marta. 'I've just arrived. I thought I'd say hello.' The twins continued to giggle; James stared at Marta for a while longer and closed the door.
Over dinner there was a discussion about the weekend plans. Gillian wasn't sure she'd be able to do anything other than work. 'I've got reports to write, contracts to look at. Perhaps' she said to Marta's dad 'you can take the kids somewhere by yourself. I really need to work in peace.'
Marta's dad searched his phone for places they could go to - the safari park; the aquarium; the swimming baths; the cinema. The twins didn't respond to any of his suggestions. James looked up from his dinner plate and said mournfully: 'Do we have to go out ? I'd rather stay at home and play my new game.' Marta said to her father, who was still checking his phone: 'Have you forgotten about the trip to the seaside ?' Her father shook his head. 'Not this weekend, Marta. Maybe next time.'
*
When she arrived home on Sunday evening Marta went straight to her room and lay on her bed. All weekend, James had been nasty towards her and the twins had played by themselves. Her father and Gillian had spent most of the time arguing in the lounge.
After a while her mother knocked on her bedroom door. 'Everything ok ?' she said. Marta said yes, everything was ok, but her mother knew she wasn't telling the truth. She came in and sat on the edge of the bed.
'What is it ?'
'I'm just angry, that's all, because we didn't visit
the seaside. Instead we went to the cinema and saw a stupid film and it was
boring.'
Marta's mother stroked her daughter's hair. Getting used to the new situation was going to take time, she said. And Marta needed to understand that her father wasn't always able to give her all of his attention like he used to do. And anyway, surely it was nice for Marta to be with her sisters and brothers and not be on her own all the time ?
Marta said her father wasn't married to Gillian so she didn't actually have any "sisters and brothers." 'Well, perhaps one day your dad and Gillian will get married - then you'll have sisters and brothers' her mom said and Marta wondered why her mother kept defending the man who had left them.
That night she had many strange dreams. She dreamt of the bug's yellow eyes; of flying high above the trees in the garden. At one point she woke up, disturbed by a low humming sound. At first she thought the sound was coming from downstairs. Then she got out of bed, drew back the curtains and looked out of her bedroom window, thinking that perhaps the noise was
coming from the garden. But the source of the humming remained elusive. Unable to sleep, she lay awake for a long time, with the duvet pulled tight around her.
Go to parts 3-4: https://www.abctales.com/story/kilb50/marta-and-bug-3-4
Image: Wikimedia Commons