Triple B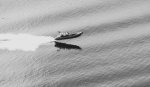 Thu, 05 May 2022
1 likes
It's not a credit rating, nor an investment grade product with a higher risk yield rate of return. Nor a bundled junk bond portfolio, you can't buy insurance on it and there is no secondary market or derivative options available. No market maker on the bid-ask.
Although the Lifeguard Captain, DJ wishes there was at times. There is an unconventional risk management strategy on this one.
And a ghost from DJ's past wants to kill it.
 A quick glance at the text header, dash board phone mount next to the fuel gage, a short coded text from Marina at the SAR Lifeguard HQ.
<TriB's PRbat Ofcr-Cum's bk ltr ref: evnts pst -24hrs. No stres' got it handled 4now>
That message will be de-coded later.
It's just one of those days,  if anything can go wrong it will and did and the day isn't over.
Forget that for now.
We're on a rescue.
Full Focus- Game On-All In.
Camino Island Malta - Santa Marie Bay:
DJ is at the helm of a twin engine 8.5 meter rigid inflatable rescue boat. Aka: RIB-SAR boat.
Its late afternoon, about 200 meters off a crowded lagoon beach, hot and sunny, stiff offshore breeze picking up. He's feathering both out board motors keeping the bow pointed in the wind. No hands on the steering wheel, one hand on a grab bar facing the stern, back facing the helm, one hand on the dual throttle controls engaging one motor at time, left to right, port to starboard to neutral, steady she go's in the breeze, in a stationary holding pattern. Every bit the grace, reactions, tuned senses of a professional e- gamer on a pro console, expect this is about a metric ton of rescue water craft with allot of horse power, rescue gear, roll bar mounted with radar, SAT Link, emergency lights, radio antennas and a rip current trying to pull the boat out to sea from the sheltered bay.
He doesn't need to look at the gages, dials, throttles, bow, and wind direction. He feels it.
DJ is watching two of his Rescue Lifeguards tend to the wounds of two of his other Rescue Lifeguards.
It's a smooth, choreographed sync'd series of micro watercraft thrusts and pull maneuvers coupled with rolling smooth, surge and purge motions, bow to stern, while 1st responders with rescue bags open, latex gloved, trimming bandages, gauze, tape, arm sling, steri-strips, positioning detachable seat cushions and pads to help the injured crew get comfortable on the rear deck next to two large out board engines while instinctively posturing and balancing to the motion of the ocean.  There are flecks and specks of spattered blood and smears here and there.
Simultaneously on the radio with police on the beach, another Lifeguard rescue boat further in the bay and his beach Lifeguard team.
Helmut, radio headset, shorty sleeveless thin orange rescue neoprene suit, rescue utility life vest with all the gear velcro'd strapped in.
Usually that's fairly comfortable on a warm day at Sea, but being stationary, the sun starts to cook you in your own rescue gear. It accelerates the dehydration process as your body tries to find ways to sweat and cool.
The rapid perspiration produces a thin slime on the skin from sun block ointments.
This situation came about because an intoxicated boater broadsided his Lifeguards on their Rescue boat while assisting a kayaker who lost their paddle drifting out to Sea. DJ's Lifeguards hit the deck, ducked for cover as they're trained to do seconds before impact.
The speeding boat that caused the accident, more than twice the size wasn't so lucky. Three people were launched off the bow on collision. One scantly bikini clad woman appears to have a broken neck.  Others, broken arms, head trauma, teeth knocked out, knee cap torn off amongst the passengers, as the Rescue team reported in; Captain Cocktail, impacted head first into the steering column, smashing a bottle of gin in his face, blaming and cursing Lifeguard rescuers while covered in blood with shards of glass protruding out of his face.
The beautiful custom built day cruiser-speed boat that collided with the Rescue RIB boat, is now in a slow sink, listing-bow first, booze bottles, personal belongings and assorted trash floating around encircled by the rainbow sheen of petrol on glistening clear blue-green water, music still blaring.
The flipped over Rescue boat is still floating, that will be recovered and repaired.
There's allot of colorful metaphors to describe this day and this incident, it's wasted energy while communicating with rescue teams, law enforcement, hovering a boat in the wind watching his crew patching up his crew.
Here's a quick snap shot of the day's highlights stripped from the Op's Logs:
Motor Yacht: Failed Safety Inspection 3x.
Summary:
Brew crew motors out, main channel, attempts to lite gas grill. Gas explosion. Lifeguard boat crew boards vessel with fire extinguishers. First aid and burn triage. Boat owner claims aliens zapped his boat with a particle beam because only he knows where their spaceship is hidden out at Sea. 
Family Beach Fight:
Family outing of ten, turned into a booze brawl. Beach Lifeguards moved in to de-escalate.  Jr. Lifeguard was struck by wine bottle, broken hand. Police arrived, arrest made.
Family forgot Grandmother on beach. She was passed out, a combination of blood thinning med's and wine spritzers. Beach Lifeguards found her hours later. She's being treated for second and third degree sunburn at hospital. 
Person Overboard-Cruise Ship:
Woman jumped off cruise ship-stern while departing main city channel. Lifeguard boat rescue. Woman claims she was raped.
Note:
Even though that's a fairly common crime reported in the cruising industry, it hardly ever makes the news, and very rarely prosecutors will take up a case on a ship registered in some offshore tax haven once it's left port.
All the Lifeguards can do is; rescue, report, transfer victim to police/hospital. If there's any solace here, that Rescue boat was crewed by two of DJ's power rescue girls. They called the rape crises hot line so the victim wouldn't be alone during the rape kit test and injury treatment from the jump at hospital.
The Lifeguard Girls, several who are survivors themselves, organized a girl's evening pizza party for the victim to rally support. (There's a secret Pop star visit) But that's another story about this crew. It's safe to say there's allot of tears, girl power love, new friends being made and singing going on over there.
Lifeguard Assaulted w/ E-Tablet:
Note: This one made #1 on the mentally distorted list for today.  
Crowded family beach cove with kids play zone.  Seven year old child drifts out just past the swim buoys on inflatable smiling turtle raft. Child slips off raft. 
Lifeguard at far end of the beach observes, radios in.
Witnesses Stated:  Lifeguard did an Olympic sprint to the other side of the beach, leaping over baby carriages, beach blankets, picnickers, weaving through crowds, navigating a moving slalom course fins in hand, circa 70 meter freestyle sprint past the swim markers, disappears under water for about a half a minute...  Surfaces with lifeless child in tow.
Back-up Lifeguards intercept on beach, start CPR. The child revives, vomits, coughs up water stabilized with oxygen plus a little help like feet rubs, finger squeezes, and Rescue jokes like how many fingers can you see, two, another Lifeguard answers six, stuff like that.
The beach crowd breaks into cheers, clapping.
As the child is being loaded in the Ambulance an emotional screaming mother arrives and strikes Rescuer with e-tablet splitting his eye brow open requiring stiches. Police restrain assailant screaming expletives for making her look like a bad mother in front of the other parents"!  
Police officer picks up e- tablet, connected to social media, notices the time stamps on chats and video feeds. In fact the mother had no idea where her child was for over an hour.
Turns out, Mum knows the child can't swim, she's gassed up on champagne and antidepressants, hasn't eaten all day. She told police "those are doctor's orders".
Internal Note:
Unfortunately these situations are becoming more common with mobile online distractions.
It's the Jr. Lifeguards that are the quickest learners here w/eagle eyes and fast reactions. Parents and child guardians can learn from the young upcoming rescue stars, but most don't listen.
Back on the Rescue Boat;
With the wounded crew stabilized and comfortable, equipment secured, no words between the Lifeguard captain and his rescue team. It's all hand signals, eye contact, nods, winks and smiles.
DJ clears the radio channel, "Rescue 1 clear, in transit, out".
On the homeward run, as the crew says.
It's about a 30 min stretch, depending on fair weather and sea conditions.
Pushing the RPM's up just below the red line.
 Quick side note for the boat junkies out there. Aka; yachts men & woman. That's 2x200hp of the latest Japanese turbo charged ceramic block rotary outboards, no pistons, that comparatively has double extended fuel range efficiency. Adjustable prop pitch on the fly mounted on a 8.5m RIB with 2x broadband mobile data SAT links with 2 touch screen, zoom in/out 3D radar and sonar. Auto retractable stabilization fin(s) mounts.
And, a dash mount 3D imaging hologram that can see another vessel at night in any weather at 1000 meters out, thanks to some high tech of lidar, radar and those broadband SAT links + some cutting edge tuned-up software merging all of those imaging and sensors.
Sounds like some yacht club bar, bullshit, bravado?
It's gifted by Misutā Takiyama, CEO of the name brand Japanese Industrial giant. Former client from DJ's banking days.
Once in a shareholders meeting cross-examined on intellectual property - R&D expenses.
Takiyama stood up and slammed his fist on the boardroom table;
 "Lets not forget DJ saved us, pre-positioned us just before financial crises, whatever DJ wants, DJ gets"!
The board room fell silent, everyone promptly bowed.
That pisses off the EU procurement regulators, buy only EU. This machine is classified as test equipment bypassing any and all import taxes and regulations.
DJ runs the boat hot and fast, a pod of dolphins on starboard, migrating birds in formation port side with a low frequency whistle from the those ultra- light weight high RPM rotary ceramic engines.
Now the text message decoded:
Ufff.
Boris.
Aka; Bad Boy Boris, Triple B, Tri-B.
Dam!
DJ's been through allot with that young man and keeps him close. He's a cool, smooth, experienced top professional.
DJ and his wife weren't blessed with children, suffering a tragic loss. Portia, DJ wife says; DJ sees himself in this rock star talented rescue cowboy like a son. And lets be honest here, DJ was no saint himself when she found him, so there's a bit in common there.
Boris has over twenty infractions and misdemeanors with police, a suspect in a marijuana growing operation. Driver's license suspended three times, rides a cross motorcycle, scandalized in social media as photographs of him with a senior politician's wife, sexual escapades exploded online caught on night CCTV at the Royal Yacht Club boat house.
As one of his ex-affairs described him; Tall, swim fit cut, tanned, long sun streaked brunette-sandy blond pony tailed hair, well groomed, charming, polished etiquette, the kind of guy most woman would spend a weekend with naked in naughty ecstasy, but  you would never take him home to meet the family.
An ex-girlfriend tried to run him down on the high street, missed, ran into a street side café, killed a patron's dog. Another ex-affair tried to stab him in a bar with another girl, missed and stabbed the bartenders hand. His reputation for having affairs with rowdy woman precedes him.
DJ had to terminate his employment twice.
A crown court judge recently pardoned his arrest record for his Steller community service which includes swim classes for handicap and the founder swim fit seniors charity.
Fact is DJ has a court order to put Boris back to work. And he needs him.
He's lead guitar and vocal in the hottest underground Indie Rock band on the Islands.
And University Graduate in Quantum Mathematics.
That text message decoded;   Probation officer from the court was at the Sea Rescue HQ office, he's coming back to talk to DJ.
Maybe, possibly, in this case Tri-B's penchant for finding troubled, dangerous woman is going to pay off if DJ and Chief Ryan can keep him alive.
Yesterday late afternoon on the homeward bound run Boris spotted a stranded wind suffer on mushroom rock and went in for an assist, anchored the Rescue boat off the surf break line, swam in and towed the stranded soul to the boat.
As Boris described it, "it was like finding a stranded, shivering, dehydrated beautiful mermaid perched on the rocks surrounded by crashing waves, her wind surfboard broken in pieces".
The rescued mermaid didn't want to go back to the Luxury Superyacht she was staying on. She told Boris she was a prisoner in a gilded cage. The two stopped by a seaside café' for some takeaway and made their way to the entrance of the famed Valletta harbor just past the jetties where they dined while on a slow drift as the Sun set.    
One thing led to another, it turned into an intimate romantic encounter. As luck would have it, a wildlife photographer with telephoto lens was out on one of those jetty's and captured a series of erotic, semi-silhouetted photos that would make any Kamasutra, yoga, tantric guru break out in a sweat, with rescue gear accessories, life vest, tow lines, capture nets and a few free style moves yet to be named in the dictionary of erotica.
The morning headlines blitzed in five languages.  " Rescue Love Boat". "Victory at Sea". "Rescue Erotica". And a nasty letter from the Arch Bishop of the Island nation.
Gossip columnist, radio talk shows and the like are on fire.
Today was PMQ's, MP's had a heated debate about the world class rescue squad, its budget and leadership.
With all this shit hitting the fan, that's not the main issue concerning DJ and Chief Constable Ryan in the big picture. It's who the mermaid's keeper is.
About a half a dozen of the world's top spy agencies are on this Island nation, all taking pictures of each other and eves dropping on anything and everything. There's an investigation into a spike of rare metals trades and voodoo derivatives swapped at the London Metals Exchange (LME) and meetings between a group of secretive offshore bankers, even a representative from a well-known private bank empire representing the royal owners of an alpine principality on the Islands.
Speculation, gossip, rumors, rumors of rumors of a mystery cartel leader controlling a network, the human slave trade in the Congo River valley region producing the most valuable rare earth minerals in the world.
DJ and Chief Ryan knew him in the past and they know what makes him tick.
His soul can be described as; a worshiper of the seven deadly sins.
To really comprehend the gravity here, try and look through the eyes of secretive ruthless cartel boss with a so called legitimate international bling lifestyle and big ego. His favorite princess mistress, seen with him at international sporting events, posh country clubs, star studded fashion shows, VIP lounges and glitzy hotel casinos is on the front pages with one of DJ's Lifeguards, pony tailed, rock star rescue cowboy 'get'n ridin' & rocked in erotica positions, cuddling, caressing, flexing in ways she never did with him. His bankers see it, his cartel members know it and his dark state sponsors are talking about it for sure.
Even his estate staff is reading the gossip columns, salivating over every detail.
DJ and Ryan know what's coming. Its shame of this fame, jealousy and revenge.
He won't give the job to one of his henchmen, there's no outside contract hit here.
He'll do it himself with some muscled up back up.
And when he gets here, he'll find DJ and Chief Ryan and put two and two together as to why his market was shorted on the exchange, his credit lines called in, and his payments to those well-heeled private bankers is thwarted-missing. The unwritten rules of the commodity exchanges are the same, way back when as they are today.
"Pigs get fed, Hogs get slaughtered"
Rage, revenge and cunning made him powerful, rich and connected with a loyal following of dark souls.
But there's an ace in the hole, a trump card the Lifeguard Captain and Chief Constable have.
Or as the ancient pirates of the region from the Christian Crusades used to say;
"Your sins don't wash away in the Sea, but you do if can't navigate our waters".
In seafarers lore, there are angles of the deep and demons of the depths. And mermaids harken to them all.