Alien Opportunities Ch.2 : An Introduction To The Alien Household Part 2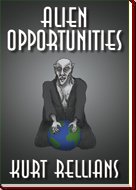 Thu, 21 Nov 2019
   What he saw was not different from what he might have expected. Her body was pallid grey, more pallid than the arms and face perhaps. Otherwise it was not so different from the female human form he coveted so much on the pornography channels and net libraries. The breasts were not enlarged, they seemed fairly flat by comparison to the porn stars he so cherished, but were not many 'real' women like this. They fitted her well. He could see her rib cage, just like the human one. She was slender, her stomach full but not flabby. Her hips were wide, he suspected wider than many humans. Her arse must be very large, and her arms and legs were powerful and muscular. Her feet were bigger than human, with seven toes per foot. All in all it was a nice body, better than he might have imagined. He wanted time to think and become attuned to this offer. He didn't know whether it was he who was to receive the benefit, or whether this was an abuse of his humanity, and his employment status. He felt confused but the time was now, and he did not wish to lose the favour of this employer.
   "Will you let me love you," she asked.
   "Yes okay, but without fucking, like you said." He was unsure whether he would be able to arouse his penis over that grey pallor, but he was not disinterested. This way she could have what she wanted, and he would find out whether an alien female could arouse him.
    "That is good," she said. "You are a good worker." It was a strange way to praise someone she had said she wished to love. Although she had asked for his consent she seemed to regard this as a work task for her employee. He worried about what he had 'signed up to'. "Take your clothes off please. Let me watch." This was strange. There was no touching first, no tender kiss. Maybe she was as nervous as he, but there was no sign of that in her voice which was expressionless as ever.
    Chris began to take off his clothes. He might as well get on with this as soon as possible, before he had time to change his mind. He slipped out of his shoes, and took down the trousers he wore for his household duties; then he unbuttoned his shirt and stripped it off to reveal his T shirt underneath. Braidt uttered a slight whimpering sound, as an excited dog might have issued. He glanced at her involuntarily. The fingers of her large right hand were at the entrance to her vagina already, but barely inside. Was she feeling arousal already. None of the prostitutes he had been with had been with had ever shown that much interest in the sight or anticipation of his unremarkable body. He took off his T shirt, feeling the air of the house on his flesh. Then his underpants. He peeled them off without hesitation. His penis, small and unaroused dangled below. He might have felt more self conscious about that with a prostitute.
     She whimpered again and he glanced at her again. Her fingers rubbed at her opening gently. Already she was feeling her arousal and they had done nothing together yet, not even touched each other. He could see the long nipples on her small breasts had filled. They stood outright, pointing at him. She moved towards him, and although he was not entirely repulsed by what he saw, he almost backed away, involuntarily. He controlled himself in time however, and quickly her hands were upon him, and their bodies touched, her extended nipples grazing against his chest. She was actually about the same size as he, not as big as her husband, but tall alongside other alien females he had seen. She was powerfully built, like Urilt. He was sure with her powerful legs and arms that, if she wanted, this alien could pose a physical threat to him. Nothing in her behaviour or his knowledge of aliens led him to believe that she would exercise that power, but he could not help but to be aware of that potential. She held his arm with one hand, and with the other explored his chest, his thin shoulders. She brought her big alien head to his chest and a large reddened tongue thrust out, with which she licked him gently. He felt sudden surprise when he saw it appear, and an instant fear, having seen or imagined forked reptilian alien tongues in films and in books, led him to shudder. His panic was noticed by Braidt for she calmed him with three words, "Don't be afraid." She seemed to know what he was thinking. The tongue was not like a reptile's but more reminiscent of a dog's.
    At first he still felt uneasy about the tongue, so much bigger and more threatening than the tongues of human women which he wanted. He worried about the teeth that might go with it, but he need not have. As he had never seen an alien smile in the human way, he did not know what their teeth were like, and having seen the tongue he now wondered. But as if she could read his mind she opened her mouth wide as the tongue snaked across his chest, and he saw that those teeth were a shade of white/ grey and not much different in size to his own. He relaxed even more for he realised the tongue felt good on his skin as it brushed his nipples. No one touched his body normally. There was no one he could ask, and it was a long time since he had visited a prostitute. As her hands gently explored him he crossed a bridge and placed his around her body. The grey hued flesh was warm to the touch, but not, he felt, as warm as a human's. How could that be? Perhaps the skin was thicker than a human's, or maybe it was the effect of the grey upon his imagination that made him think it. The flesh felt firmer than a human's but then it had been a long time since he had felt a woman, and with prostitutes hugging and feeling is not a large part of the contract.
     Her fingers gently found his cock. To his own surprise the warm feeling of sexual interest was coming from it. As the alien's fingers touched it he began to form a swift erection. Her fingers found his arsehole and explored between it and his cock.
     While she caressed him. She pushed one of her hands into her own passageway and continued her own masturbation, grunting and whimpering as she did so. This went on for a long time. He caressed her too wanting to aid in her stimulation. A human woman would probably have expected him to finger fuck her at least, long before now. Probably even more likely he would have felt obliged to stick his penis into her as soon as possible to satisfy expected conventions. As often as not he had failed to achieve or maintain a consistent enough erection to complete the conventional sex act with prostitutes. He had never got the chance even to fail with 'ordinary' women. But this alien was not even interested in having him stimulate her sex organs, let alone to penetrate her. He felt slightly sidelined, although her alienness caused a part of him to feel relieved. He was relieved not to feel obliged to perform with her. Instead he felt free to massage his own cock. He was aroused by the sight and feel of this sweating moaning alien, who gave everything to her sexual arousal. She was completely without shame now, in a completely sexual world. But he could see that she was intent upon him as well. She was feeding on him; her gaze transfixed by him as it focussed on his face, his unremarkable body and his own masturbation. Aliens loved humans, he had heard, from the lips of his friends, and from Braidt just before this strange ritual began. Well here was the proof. She whimpered loudly now and grunted repeatedly, flicking over his body with eyes of total worship, with her tongue and her free hand. He deemed that she must be close now to her climax, and he wondered whether the alien orgasm was much like the human. He had no doubt that it was on its way. He worried slightly whether it would be extreme. There were growing signs that it would be, and he wondered whether he would be safe. He had no doubt that she was strong, and violent flailing could easily harm him. Chris's own arousal was growing however, and its sensations blunted the effect of those fears.
    Braidt's nostrils flared, and her obscene whimpering reminded him of animals, caught in the power of their instincts. She was breathing hard, her nipples rose up, hardened. She gave off a strange smell, familiar to him only from the company of aliens, but now stronger than he had ever smelled before. The smell disturbed him, but not enough to blight his stronger feelings of excitement. He found he was able to share her obvious excitement. He found he liked the muscular shape of her flesh, even her strangely shaped face with its long nose pleased him, the smooth curvature of her neck and shoulders. Her breasts, smaller than those of his pornographic angels, were delicate and worthy of his fascination. Her hand speedily massaged the cavity of her genitals in the same way as a human woman might have done. Surely she had a clitoris and sensitive petals just as human women. Liquid, filthy and oily, much like his own sperm, but more runny, lubricated her, running prodigally down both legs, making them shiny and slippery. This was evidently the source of the strong smell. Had she orgasmed yet? He did not know, but she seemed still to be on an approach to something, her panting and whimpering was growing in volume and intensity. All the time she fixed him with her gaze, moving across him, watching while she took hold of his penis and wanked for him. She stimulated herself with some violence now, suddenly stopping and then abruptly starting again. Her keening was making much noise.
      All of a sudden he became conscious that there had been no door to this room. Everyone in the house would surely know what was happening here. Others of Urilt's wives, and a few of their offspring had been in the lounge room where he had talked to Braidt in so civilised a way only a short time before. Urilt himself would be back soon from the office; he had lost track of time. What would Urilt make of his wife's disloyalty? There were rumours about the aliens' interest in humans, but this was Urilt's house, and what would he say? Chris's concentration was broken, distracted by these worries. Would Urilt be angry. The alien was strong and powerful. Chris did not doubt that he could cause serious damage if he wished, or if he became angry; or would he lose his job, both of them. What about the other members of the household?