Bumble's Delight.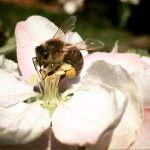 Tue, 13 Feb 2018
Nymphs worship beneath
shadows of mustard Lilies,
their cups filled with odours of woodland dew.
Each petal spills gold,
as echoes of pearled morning breezes
pierce ears of grumbling bees…
who wind around Foxgloves of flame-orange.
Bumble's throbbing throat tastes elixir of creamed clover mead.
They flurry in glory, from bough to bough.
A white-feathered Daisy
seeks a wandering stroke of sun,
as Buttercups flare soft-breathed gold.
Wallflowers undo royal-blue buttons…
as winds wash their heads
with Wisteria's fragrance.
​Image courtesy of Wikimedia Commons.
Photo by Simon Waldherr May 2016.