Dance of Summer.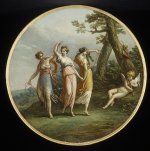 Tue, 13 Feb 2018
Ruffled clouds spill diamond raindrops,
drizzled over breaths of Summer,
as ghosts of dying gales shiver,
naked in no-man's land.
The sky's blue dress, lavender tinted,
sails over an indigo ocean.
Silver geese fill void twixt Heaven and Earth.
Scents of honey swerve on lazy breezes,
Red Admiral's flawlessly flutter
and enjoy the ride.
A feast of unlit Freesias
ignite yellow frocks,
as a Lark's melody soothes
sublime echoes of Spring's shadows.
​Image courtesy of Wikimedia Commons.
​Three Nymphs and a cherub reclining. Antonio Zucchi 1772.
Phot by Pharos in Wikimedia.