The emergency bassoonist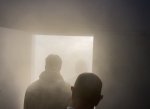 Sun, 29 Dec 2019
The emergency bassoonist 
sits in his huddle-flat
on the frayed edge of functioning
cradling his telephone
in his crumpled lap,
waiting.
With each synchronous rotation
of his pursed purple lipped
lung cage 
the grapple hooks loosen
The first few notes of
Executioner Style by 
Kool G Rap
thrum-vibrate as he
flusters for the call
with twizzle fingers.
A smile dribble-leaks,
a fatal car jacking behind
Uno Mas? in the heart of 
Los Cabos, 
an oboist and a violinist 
gunned down 
a bassoonist 
fatally wounded in the crossfire 
a bassoonist 
a bassoonist 
He gathers together 
the entrails of his 
sanity 
like the remnants of Shelley's heart 
and placing the instrument 
into his quivering mouth 
he blows with bronchial 
effervescence 
bass and tenor clefs 
one treble, another 
Beginning to shiver
he judder-squints
through
the contents 
of his velveteen case. 
Polish cloths, needle files, 
low A extension, mini reeds
a Glock 19
10 rounds and one more 
in the chamber.
He unfurls the city map
and shrugs on his
greatcoat 
to be wanted 
to be needed
to be left
to leave