A Postcard From My Love, Lost In Cathay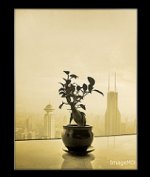 Wed, 31 Jan 2018
A Postcard From My Love, Lost In Cathay 
It has been so long since I heard your voice,
since I felt your guiding hand on the back
of mine. All I have is a perfumed card
you posted from Cathay; lines of faded
pastel ink that loop in clouded contrails.
"My dearest Lily, the cherry blossom
blooms as wild and fair as your morning hair."
I wanted to join you when the spring rains
were falling, when the cranes were building nests
between the reeds. You sent a photograph
of neon night, of glass exteriors
glimpsed through the window of a bullet train.
"I wish the leaves in sunlight shone the green
of your eyes, in vain. All my love, Loraine."