FRAMED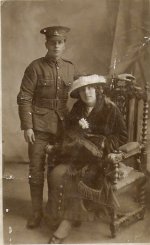 Thu, 01 May 2014
There is a picture in a silver frame -
My Grandparents on their wedding day;
And a metal box with water stains
That still retains the pungent smell
Of a full pack of strong tobacco
And a crumpled box of fags as well -
With just one empty space.
'It would've been rude as anything
Not to try a gift from the daughter of the King'
With a small wry smile Grandad would say,
Looking at the picture of the Princess Royal's face,
Safe at home in Blighty.
There used to be a pencil too
With a bullet casing lid –
That went missing long ago.
And, this I do not really know,
But I like to think he used it up
On cards and notes to his new wife –
In his pocket safely hid;
Perhaps it stopped a shot one night,
Which may have saved his life.
Like the three times the surgeons did -
Then sent him to the front again to fight.
Theres's a little leather bag –
The cut-off tip of a soldier's glove.
And here inside, a metal lump
The size of marbles, coloured glass
They used to play with in the trench
By way of fun, in all that mud and deathly stench.
 'The surgeon took it from my head.
It's shrapnel, a gift sent by the Hun,
That and the cough from the mustard gas.
I've kept that too, wherever I go in this fair land.
But they wouldn't let me keep my Lewis gun!'
I looked confused; he patted my hand:
'It's right you shouldn't understand.
That's what I fought for' Grandad said.
 The pale young soldier and his bride
Gaze shyly from the picture in the frame
Now man and wife at last, and side by side;
So full of tender hopes and love and fears.
And with them I pray we've done with war at last
Now one hundred bloody years have passed.