Beautiful Things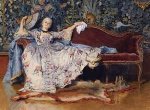 Sun, 31 May 2015
The melting Roman sun exposes every pitted pore
in the dried oil and canvas.
She lay across from her artist, resplendent in silks.
Her cold beauty rings hollow against oranging sunlight, the softening horizon
splashes on Mediterranean brickwork in the elegantly wasted museum.
At the eye of a storm of her own silent words she reclines,
the tide of her speech eroding with loving scorn
her children who chose the scalpel over the paintbrush.
Each damningly clipped syllable nips the other, unbalancing
as crowds gape on, captivated in their disgust.
She bats away the glances as if to say, desperately nonchalant,
'I'm not yours any more; you are not cut out for the beautiful things.'
.
She's slipped through his painter's fingers, remaining,
and scatters his failings like confetti
leaving him
redundant , fleshed out only by love and memory
in a soup of smoke,
enjoying the brink of despair together -
echoing upstream.
I imagine his nod with a whisky glass, he's
comfortable as the king of cast-offs.
I'm asked why he didn't give interviews,
didn't talk.
I turn and reply
'Because he listens,
he sees.'