Cracked Actor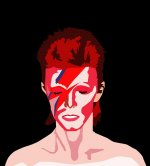 Fri, 19 Feb 2016
Sculpted jaw.
Self-effacing porcelain God 
of Divine cheekbone
garbed in motley clicked together
from Carnaby dustbin excess.
Even from the start
from Bromley girlfriend
left eye warping scuffs
we struggled to train the lens on you.
You, orbiting modfather 
a liquid mirror cipher 
full pure theatre
pulling strings
opening our curtain
on the careful strokes that
painted the stage of Bowie's face.
Lips encyclopaedic
listed influence and influenced
through maw of broken teeth below
alien eyes I never saw
but looked straight through me.
Down, down to
rabid hollow of collar bone
collecting crocodile tears
shades of Dali
for the closet
hetero 
spiritual vampire
constructing descending major chords
on white diets of milk
and Coke
if not the side effects
it must be love.
You went backwards to go forward
New York again
back to enclosed space
firewalled freedom
of your older, digital self
prodding at the world from cyberspace
while strutting the school run catwalk
not chameleon nor comedian nor caricature
just Jones,
directing Bowie's death.
The stars
are different now.
The night lit with
colours of nothing
but a jewelled death mask
thunderbolt
another cracked actor,
another mirror smashed.