I'm Not Disappointed, I'm Just Angry Chapter 5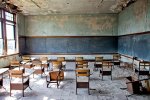 Fri, 20 Jul 2018
Chapter 5
Placement 2
January 2005[1]
Having just had a bit of a rant (sorry, forgot the warning) about professionalism, this leads me nicely to my second placement. Now as I mentioned earlier, as a trainee you are entitled to two mentors, one for day to day and one to oversee. So here, at a school which has recently installed metal detectors due to the rise in knife crime and issues all members of staff on gate duty with laminated pictures of cars and their registrations due to the fact that the local area has the highest percentage of registered paedophiles in the country, I have only one – N. N has a daughter. Aww. N has recently split from her partner. Uh-oh. N harbours resentment towards most males. I'm seeing a pattern here. N has been to India and enjoys heroin. What's heroin mummy? N frequently makes sexual comments regarding me joining her in the stationery cupboard. Tempting but probably unprofessional. Anyway, who really wants an exercise book with an arse print on it? N frequently tells me she is here to 'shake up' the department from her role as second[2]. This is equivalent to taking charge of a supertanker from the men's bogs with the captain still firmly at the wheel and the crew thinking you are overboard. Speaking of the rest of the crew, they hate N. This makes it particularly uncomfortable when N frequently leaves department meetings early and the rest of the department take this opportunity to have a good bitch about her. A lot of sentences start with, 'I know she's your mentor but...'
Now I've never claimed to be the hardest worker. (I think that's pretty evident from my career so far) but N single-handedly worked to undermine my every move and, in hindsight, on a misty day with someone else's contact lenses in and five beers down, she was probably right to. There is no way that I should have made it through that second placement. I turned up hungover. I photocopied lesson evaluations and changed the dates so I didn't have to do them properly. I cut and pasted the vast majority of my University research and hastily Pritt-stuck it into folders. In fact, I spent more time desperately trying to find validation from any source possible rather then invest some time and effort into my chosen career. As an excuse I had recently split from my girlfriend of four years so it was a perfectly natural reaction to take many, many pictures of my knob and press – send to all. (This didn't actually happen. Or it did - again depends who's reading). Thank God there weren't so many laughing face emojis back then.
Our regular mentor meetings went like this:
N – How do you think the lesson went?
Me – Ok, I think. I was pleased with the tasks.
N – Silence.
Me – ...and um thingy behaved better today.
N – You don't know their names yet?
Me – No, not yet.
N – You must learn their names.
Me – Yes I will but it's only the second time I've seen them.
N – That's no excuse. Now which standards[3] have you addressed?
Me – Um standard 1.
N – And what's standard 1?
Me – Um high standards?[4]
Queue a rant from N about how she's an AST[5] and she's worked so hard and she knows them all inside out to which I would reply something along the lines of 'Well, I'm not an AST, I'm a trainee' and 'Can you give me some tips on how to teach please?' and 'Could you please be in the room next time observing instead of sat there marking or buggering off somewhere else?' and so on and so forth.
I was heading down a dark path. N couldn't decide whether she wanted my cock in her own personal stationery cupboard or wanted a real CoC – a Cause for Concern form that would be submitted to the University, meaning I would receive 'extra support' or in reality they would look at me more intensively so they could find 'extra evidence' to 'extra support' me on my way out the door.
It came to a head on my second joint observation. This is when your mentor from University comes in to jointly observe your teaching with your school mentor. This is to check their judgements and to see how you're getting on. It's a massive deal. You can fail your whole PGCE if this goes badly.  I spent hours planning and preparing the run up lessons and the lesson itself. All the effort that had tailed off during this placement came rushing back as I fought to survive. N and I had a number of meetings where she would check my planning and offer advice. This advice often took the form of 'Yeah, it's fine.' In a final meeting N informed me that due to a scheduling conflict, her and my Uni mentor, A, would not be able to meet straight after the lesson to feed back as normal and I had been put on cover so would have to wait an hour for feedback. Stupidly, I said fine.
The lesson observation arrived. My meticulous planning paid off and this difficult class were fine and did well, probably due to the fact that my mentor and Uni mentor were sat glowering at the back of the class which made a pleasant change to actually be observed for once and not to just have to receive feedback and encouragement from an empty chair. (Sorry if this is getting personal but I fucking hated her and having done her job many times in the future, this hatred has only intensified.)
I arrived out of breath, red-cheeked and hopeful (God bless us, every one!) to my feedback session to find two grim faces and five copies of my worst ever planning laid out on the desk. I hadn't even felt the knife go in. She'd sidelined me for the hour so she could put me on a CoC, literally and figuratively. N started the meeting by completely ignoring the lesson and stating that she had been talking about a Cause for Concern form with my Uni mentor due to my unprofessionalism and scant regard for lesson planning. I had nothing. She had called me out on the worst examples of planning and completely disregarded those lessons I had spent hours on meticulously planning and asking for feedback from her from. Feedback she almost never gave so I was forced to ask for feedback from elsewhere. This was it. It was over.
Fortunately, I am a sneaky fucker. Somewhere deep down I must have known this was coming. I had been in regular email contact for weeks with A discussing the lack of support I had received in this school and begging her for some feedback on my lesson planning which she diligently gave. A surveyed my face and that of N's before producing a bulging portfolio of evidence garnered from my last placement and the emails I had been sending for weeks and, with the utmost delicacy and subtlety, eviscerated N regarding her lack of professionalism and support whilst simultaneously praising me as one of her more gifted students and expressing puzzlement as to why my gradings and impetus had dropped so much in this environment. I could have kissed her. If I didn't feel as if it would be an affront to this gentle iron lady's sensibilities I probably would have leapt across the table and snogged the face off her.
I had survived by the skin of my teeth but the lack of professionalism hurt more than anything. Why would she turn on me whilst trying to turn me on? I couldn't decide whether I wanted to stay with this career or not. If we're not in it together then what was the point? How the hell were we supposed to be models of behaviour to students when we can't even model decent behaviour to each other? I went to see one of the senior staff to have a chat. It was the best thing I could have done. He said something that has stayed with me my entire career and it's a line I have scurrilously stolen and employed to appear wise myself. He simply asked me what it was that kept me coming into work in the morning. He asked me to give him one example of something that made me smile. I explained that one morning a lad in my tutor group cut out two pictures of pints of Guinness from a magazine and gave me one. He then proceeded to say 'Let's go for a drink, sir!' and cheersed me with his paper pint. I said 'It's the kids that keep me going.' He said, 'It always will be.'
---