Lines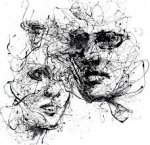 Wed, 01 Jul 2015
On the edge.
 
The lip
 
burnt up and used out,
 
a flat horizon shivered in pale dust;
 
just a little something
 
to take the edge off
 
 
the sullen death-rattle of blind teeth
 
tuned to pound of flow and flesh along
 
the brink of wounds
 
-a blood confusion-
 
-a stomach pulse-
 
nearest the heart.
 
 
You.
Intruder.
 
Hold me through the lines I've crossed.