Surf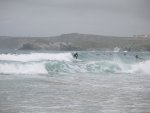 Thu, 16 Apr 2015
Black flies squat amid the green sheet ripples
Searching for a certainty denied by the foam.
One is tumbled; mouth crammed with grained salt
A sour aftertaste at the root of the tongue
Sand in the cavities.
A soft thumbprint sheen haze hangs against the tenuous surface
It curls into a fist and dissipates
Over the wounds of swells and eddies
As sure as the preparing dusk.
Rock pool remnants simmer, fizzle in the glare
Lost limbs discarded under watchful rocks
'We only ever went sideways.'
You close your eyes and speak
Tongue rolls and words crash
Wipeout.