Winter child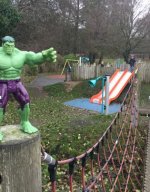 Thu, 15 Dec 2016
Away from the leafed through house
and far from the stale, bitumen thrum of traffic crush
we curl back into the womb of the earth.
Topping the brow of a drumlin popped from a shrug of turf
I watch, let you truant in the moan and crack of fresh fallen branches.
With ember red cheeks your hands,
raw as meat,
fumble in the folds of cold soil.
Ants flee from chubby digits
yet a woodlouse breaks enemy lines.
Little legs
gift soft finger tickles,
to tinkling laughter he beats his retreat.
This morning we fought,
dry skin on kindling wood.
Out here, we find a new patience with each other, some
forgiveness in the forest.
We keep coming back,
voyeurs shamed by nature's nudity.
I finger cold steel keys,
sharp from the chill of winter, let my head be turned for a moment too long
and sigh with the wind, catheter comfortable.