The Birthday Party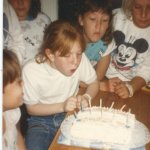 Tue, 05 Mar 2019
"Thank God, it comes but once a year."
The remark, accompanied by a sigh,
may have been unkind but was sincere.
The expectations, as always, were high.
One had to entertain the little brats,
who nowadays are more sophisticated,
with a clown performing magic acts.
Anything else would be deemed outdated.
All the games, including 'Pass the parcel',
had to include a present for each child.
Then there had to be the bouncy castle
upon which even the timid went wild.
Many hours had been spent to bake
what was to be the party's masterpiece:
a deliciously creamy birthday cake
of which every guest would get a piece.
To everyone's relief came the crunch.
The event had reached its culmination:
it was vital to rein in the unruly bunch
in order to conclude the celebration.
The air was filled with a roaring sound.
To be heard, the mother had to shout:
"Children! Be quiet and gather round."
It was time to blow the candles out.
© Luigi Pagano 
Image: my own